A selection of dining tables that fulfill the requirements for outdoor furniture: longevity, capacity, simplicity (and in some cases, expandability).
Above: The solid-teak Elan Dining Table extends to 124 inches long and is $3,050 at Design Within Reach.
Above: Ikea's í"ngsö Table is made from solid pine with a black or white glaze for $169.
Above: Barlow Tyrie's Equinox Rectangular Dining Table features a parasol hole in the center for covered dining outdoors. Made from plantation-grown teak and marine-grade stainless steel; $1,899 from Didrik's.
Above: The Kayu Teak Table is 79 inches long; $1,995 at Design Within Reach.
Above: The Parsons Teak Top Dining Table is 60 inches long; $889 at Crate & Barrel.
Above: The Rectangular Dining Table features high-quality finger-joint construction; $1,950 at Design Within Reach. Read more from our post on Gardenista: World's Best Indoor/Outdoor Teak Furniture.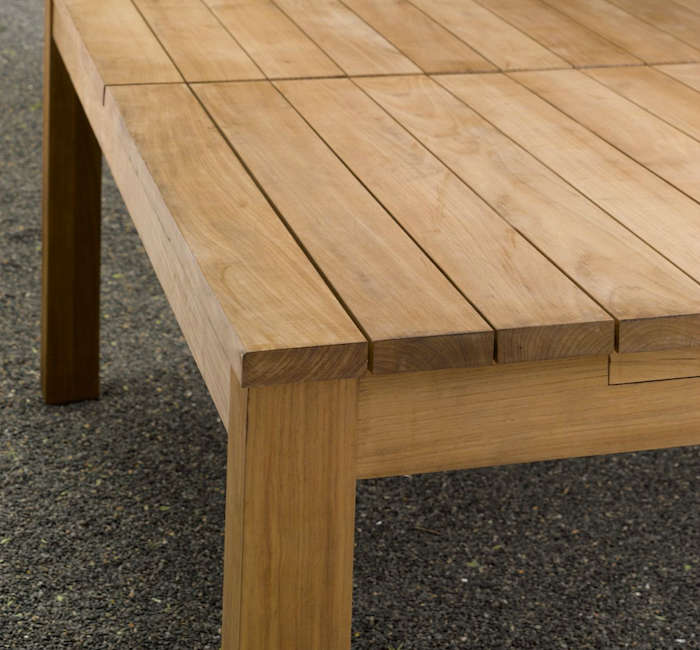 Above: The Belvedere Rectangular Extension Dining Table from Restoration Hardware expands from 80 to 110 inches wide; $3,795.
Above: Pure II Rectangular Dining Table by Henry Hall Designs measures 70.75 long by 37.5 inches wide; $2,700. For more information on showrooms or purchasing, contact Henry Hall Designs.
Above: The Dakota Dining Table is made from white oak wood and measures 77 inches in length; $1,399 from Crate & Barrel.
Above: From venerable UK-based teak furniture maker Barlow Tyrie (known for its high quality products); the 59-inch Monaco Dining Table is $1,479 at Didrik's, which offers free shipping.
In need of a different shaped outdoor table? See our previous post: 10 Easy Pieces: Round Wood Outdoor Tables.
N.B.: This post is an update; the original story ran on May 12, 2010.
(Visited 213 times, 1 visits today)