What's a gardener to do in the off season, after the beds have been put to rest and next year's wish list of plants and seeds, raised beds, and fruit-filled strawberry pots fully envisioned? Accessorize, of course.
Take a look at your bare-bones outdoor setting and see what it needs to fortify it (and you) through the winter. Here's what we'd like for our own gardens:
Above: West Elm Market's multi-pocketed cotton Garden Tote, $39, is designed to hold tools, but works equally well for a wallet and laptop.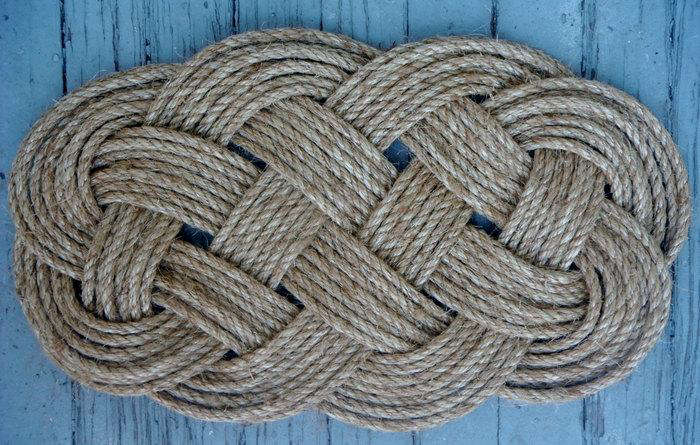 Above: Nearly 150 feet of rope go into each Celtic Knot Door Mat, $62, hand tied by Etsy seller Stalking the Wild Snark.
Above: Dramm Hoses in colors to remind you of summer. Made of rubber and nickel-plated brass, each is 50 feet long and $69.95 from West Elm Market.
Above: Stoneware Thrown Bells with walnut knockers, handmade by Michele Quan (formerly of Me & Ro Jewelry). They're suspended from knotted hemp and are $215 each from Love Adorned.
Above: A set of three Nesting Fruit Boxes made of oak from a demolished Pennsylvania hardware store and finished with tung oil for water resistance; $90 from Peg & Awl.
Above: A Patterned Garden Tool Set—trowel, pruner, and fork—made of aluminum and steel, from West Elm Market for $29.
Above: A Fermob Bistro Floreal Folding Table, 38 inches in diameter, comes in 23 colors, including storm gray, cotton, and linen; $391 at The Garden Gates.
Above: A Handmade Carved Oak Rope Swing, ready to be attached to a tall, sturdy tree branch or a barn beam, is $200 from Kauffman Mercantile.
Above: A set of ten Reclaimed Wood Garden Stakes comes with a pencil and is $22 from West Elm Market.
Above: A string of 5-Tier Temple Bells wind chimes, inspired by ancient Chinese bells and made of copper-plated steel or brass, is $45 from Potted.
Enter the West Elm Market Giveaway to win $250 of clever, hard-working, time-saving, clutter-busting solutions for everyday living.
(Visited 41 times, 1 visits today)