I've been taking a ceramics class at night for the past few months and the other day, while cleaning up the wheel at the end of the last session, it dawned on me: why didn't I make a mortar and pestle? Filled with regret I slumped out of class and immediately went online searching for inspiration to satisfy my urge.
There's something satisfyingly primitive about mortar and pestles. Used to smash, mash, and pulverize all manner of cooking ingredients, few other culinary tools do their jobs so simply and so well. Plus, they're nice to look at, especially, if you ask us, in white. 
Here are 10 basic standouts in ceramic, porcelain, stoneware, and marble.
N.B. We've posted on mortar and pestles in the past: see additional options at 5 Favorites: Mortar & Pestles.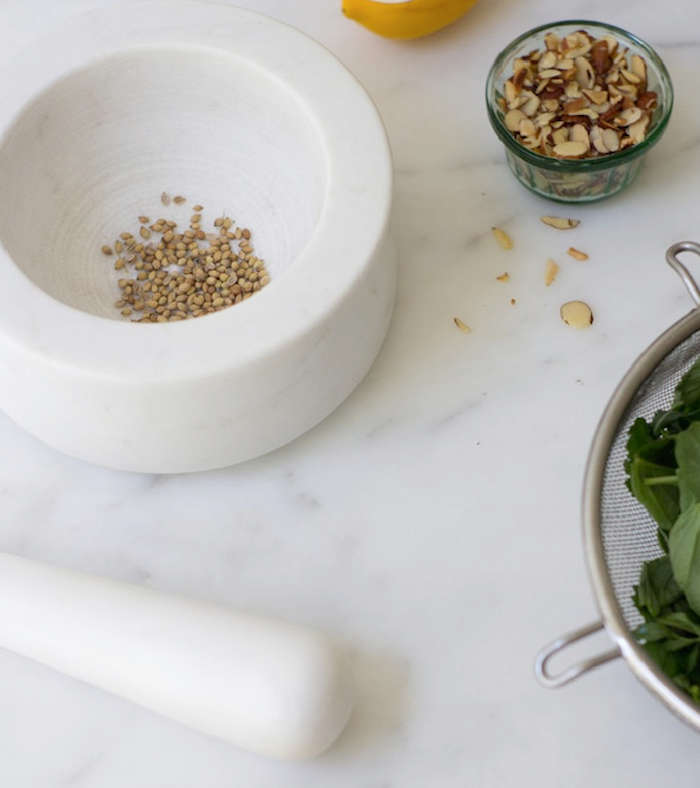 Above: Available at Heidi Swanson's shop Quitokeeto, Magnus Lundström's White Marble Mortar & Pestle is designed for hardworking kitchens (Swanson puts hers to work for making pesto, nut butters, salsa, guacamole, and curry paste, to name but a few examples); $125 from Quitokeeto.
Above: Made in the UK for decades–and Julie's longstanding tool for grinding spices–the Milton Brook Ceramic Mortar & Pestle has a heavyweight design in porcelain and beechwood; $62.95 CAD from Old Faithful Shop. Also available in the UK for £21 to £28.50 from Objects of Use. It's featured in our new book, Remodelista, a Sourcebook for the Considered Home, in a compendium of 100 standout household objects.
Above: From Harold Import, the porcelain Mortar and Pestle takes its look from pharmacy basics; $6.22 for the 8-ounce size from Amazon.
Above: Le Creuset's Stoneware 10-Ounce Mortar & Pestle has an enamel interior that resists chipping and cracking; $34.99 from Amazon.
Above: The modernist option, designer Eero Aarnio's porcelain Aroma Mortar and Pestle by Alessi; $47 from Amazon.
Above: The Emile Henry Mortar and Pestle Set is made from glazed Burgundy clay; $35.95 from The Wire Whisk.
Above: Crate & Barrel's simple (and affordable) Porcelain Mortar & Pestle measures 4 inches high and about 8 inches in diameter; $14.95.
Above: The Kai Porcelain Mortar & Pestle is textured with grooves inside the bowl; it's made from nonporous porcelain and hardwood; $39.95 at Williams-Sonoma.
Above: The porcelain Sophie Conran Portmeirion Mortar & Pestle has a fluted body and a pouring spout; $17.60 at Macy's.
Above: The classic white ceramic Mortar & Pestle from Sur La Table is priced from $11.95 to $24.95 depending on size.
Need the perfect countertop for that mortar and pestle? See Remodelista Kitchen Countertop Picks. And for of our favorite objects see our past 10 Easy Pieces posts.
(Visited 21 times, 1 visits today)