Here, our most comprehensive list, to date of simple swing-arm lights; good for versatility and for lighting hard-to-reach areas.
Above: From Southern Lights in Nashville, the Potence Swing Arm Lamp is available in brushed steel, raw steel (shown), and black powder coating and as hardwired or plug-in; $455.
Above: Menu's solid brass Warren Wall Lamp is $259.95 at Design Public.
Above: Up-and-coming Ohio-based designer Andrew Neyer's Crane Light pivots 180 degrees with a cord tension cantilevered design and is adjustable to any height by feeding the cable through the pivoting rod; $199 to $299 for sizes ranging from two to six feet long.
Above: CB2's Swing Arm Brass Wall Sconce is steel with brass plating for $89.95.
Above: Allied Maker's Dome Wall Lamp, shown in black, is $1,200 for the 27-inch size and $1,350 for the 38-inch size.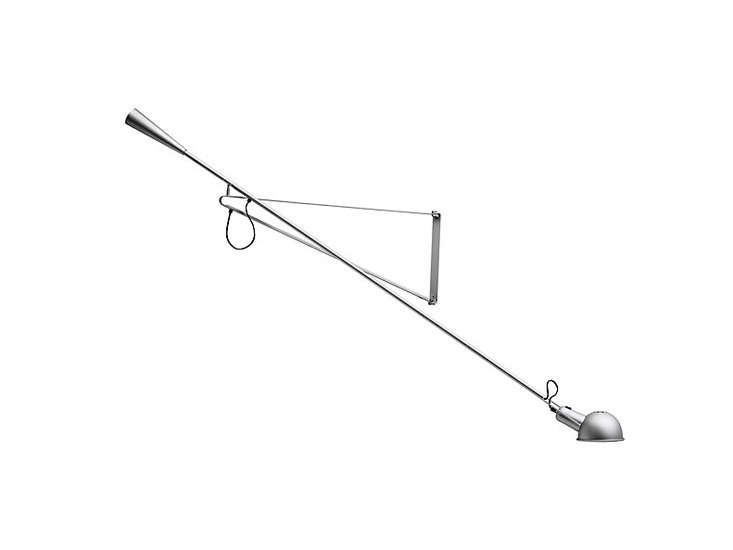 Above: Designed by Paolo Rizzato for Flos, the 265 Wall Lamp, available in black and gray, is $1,425 at Design Within Reach.
Above: The One Arm Sconce by David Weeks is available in black, gray, and ivory. Contact David Weeks Studio for pricing and availability.
Above: The Mantis Wall Sconce, designed by Andrew Neyer for CB2 (the same designer as the Crane Light, above) is $129.
Above: Objeti's Twiggy Adjustable Wall Sconce is available hardwired or with plug and cord for $485.
Above: Brendan Ravenhill's Cord Sconce is, the designer says, "an evolutionary descendant of Jean Prouvé's Potence Lamp." The lamp, available in black, black and brass, and white and gray, is $320 from Brendan Ravenhill.
Above: Jean Prouvé's Potence Lamp, produced today through Vitra, is $2,130 at Design Within Reach.
Above: The Serge Mouille 1-Arm Rotating Sconce in black and white is $2,870 at Horne.
Above: The Pelle Sconce Long Gooseneck Light is a metal frame with an antique brass finish; $159 at West Elm.
Above: The Swing Hat Lamp is available in five different patinas (shown in English Brown) through O'Lampia Handcrafted Lighting. Contact for pricing and availability.
Above: French brand AMPM's Applique Voltige Telescopic Light is €229 ($252) at La Redoute.
Above: OneFortyThree's Brass Swing Lamp is $145 for the 16-inch size and $165 for the 24-inch size.
Above: The stainless steel Vintage Swing Arm Lamp from Gus Modern is $575 at YLiving.
Above: The Lampe Gras N 213 Wall Lamp is €393 ($433) at Dopo Domani.
Above: OneFortyThree's "Potence" Style Otis Lamp in satin black and gloss white is $350.
For inspiration on where to place the lights, see our post Lighting: Modern Swing-Arm Wall Lights.
You need to login or register to view and manage your bookmarks.