These photos got me thinking about swing arm wall lights; perfect for illuminating hard-to-reach areas of a room and adding visual drama.
Above: Photo by Paul Massey.
Above: An Amsterdam Townhouse by Kate Hume.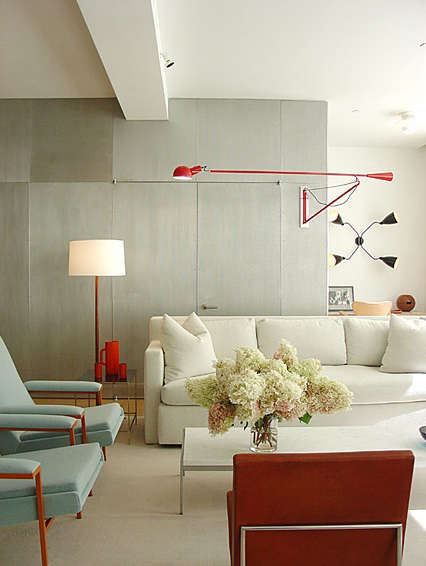 Above: A living room by Shelton, Mindel & Associates.
Above: Jean Prouvé's Potence lamp and table and chairs.
Above: Modern wall lights in a spare living room.
Above: A silver swing-arm lamp in a room by Shelton, Mindel & Associates.
Above: Paolo Rizzatto designed the elegant steel and cast iron Model 265 Adjustable Wall Lamp in 1973 for Flos; $1,024 at Moss in New York City; the Model 265 is also available at Hive Modern in Portland, Oregon, for $1,024 (available in black or silver).
Above: Jean Prouvé designed the Potence Lamp in collaboration with Charlotte Perriand in 1950; black enameled metal with a wood knob; $1,562.20 at All Modern.
Above: A less pricey alternative: the Vintage Swing Arm Lamp from Gus Design Studio; currently on sale for $446 (down from $525) at Design Public.
(Visited 229 times, 1 visits today)