We've covered Glass Globe and Halo Chandeliers; now, in the spirit of our Stealth Glamor theme for the week, here's a roundup of our favorite fantasy chandeliers for the modern palace.
Above: The Farol Chandelier by UK designers Bowles and Linares is made with either negra steel or aluminum rings and chains with fittings made from black silk cable; available from Plug Lighting in Los Angeles.
Above: The Goldman Chandelier by Austrian architect Adolf Loos is available through Woka Lamps Vienna; $3,305 by special order, available in brass or nickel plate, with silk cord.
Above: Lindsey Adelman's Agnes Chandelier is made from machine aluminum and glass and is available in black or bronze (shown) for $8,000 from The Future Perfect.
Above: The Cellula Chandelier is made up of Swarovski crystals that can be arranged as desired across the aluminum pole; $2,730 from Design Within Reach.
Above: Droog's 85 Lamps Chandelier, designed by Rody Graumans, is €2,495 from Droog.
Above: The Satellite Chandelier is inspired by Soviet satellites and space exploration. With 24 antennae arms, the chandelier is available in brass (shown) and bronze; $1,325 from Design Within Reach.
Above: Workstead's 6 Arm Industrial Chandelier is made of repurposed industrial joints, brass sockets, and new cut steel; $4,800 from Workstead in Brooklyn.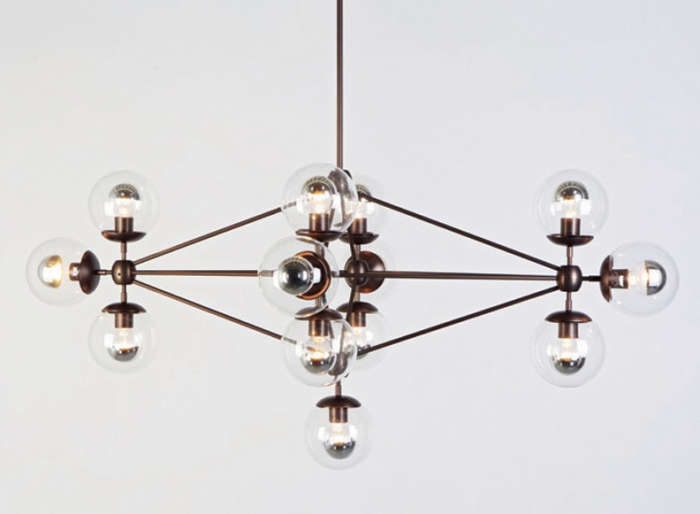 Above: Designed by Jason Miller for Roll & Hill, the Modo Chandelier is inspired by lighting parts found on Canal Street in New York. Made from solid aluminum and available in three different finishes with either smoked or clear glass; $5,800 from Matter.
Above: Ochre's Rectangular Seed Cloud Chandelier features 113 buds made of cast iron, tempered glass, and LED lights; contact Ochre for pricing and availability.
Above: Piet Hein Eek's Plywood Chandelier is available in black (shown), brown, clear, or white lacquer for $3,741 from The Future Perfect.
(N.B.: For more, see "DIY: Ottolenghi Chandelier at Camino in Oakland.")