A highly opinionated roundup of our favorite romantic, swoopy loveseats (we'd love to have one in our own boudoirs).
Above: The 2208 Sofa by Borge Mogensen, designed in 1963, is made to order; CA $6,486 from Mjolk in Toronto.
Above: The Ixelles Settee from Casamidy is available with a choice of bronze or silver-painted frame and a variety of fabrics. Contact Casamidy directly for pricing.
Above: John Derian's Dromedary Loveseat is $3,255 from Lekker Home.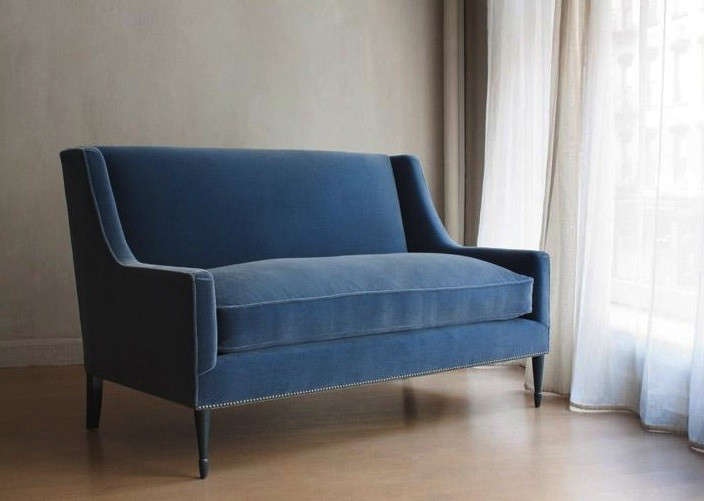 Above: The Bespoke Settee from NYC-based Dmitriy & Co. features down-filled cushions and nailhead trim; contact Dmitriy for pricing information.
Above: The 5-foot-long Sorensen Upholstered Sofa from Restoration Hardware, inspired by the midcentury designs of Ole Wanscher, starts at $1,080 (Gardenista's Michelle owns this model and we've spent many an evening sprawled on it).
Above: The iconic UK George Sherlock Two-Seater Sofa (favored by Jade Jagger and Sofia Coppola) is available from Ruby Beets in Sag Harbor. And in the UK, directly from George Sherlock.
Above: The curviest midcentury classic around from Scandi designer Finn Juhl: the Poet Sofa is $8,500 from Design Within Reach.
Above: The Oscar Two-Seat Sofa is 86.25 inches long, 41 inches deep, and 29 inches high and is $4,620. It's available in linen, wool, and velvet in a range of colors from The Future Perfect.
Above: The 60-inch Murphy Sofa from Room & Board is $1,299 and is available in a range of fabrics.
Above: The Rue Apartment Sofa in petal (it's also available in a grayish neutral) is $999 from CB2.
For more sofa intel, see our posts:
• The Ultimate Architect-Designed Sofa