In the right (or wrong) room, a floor mirror is transformative. Adding dimension to narrow hallways and rendering awkward spaces as inviting and seemingly functional, it's the renters secret weapon.
Here are 10 leaning mirrors at full length heights, each with a timeless design to carry from one house to another:
Above: The Metal Floor Mirror with a brushed nickel frame leans against the wall; $299 from West Elm.
Above: Room & Board's Loft Leaning Mirror has a shadow-box frame and is available in solid maple, cherry, walnut (shown), or ash wood with an ebony finish; $899.
Above: The Hanging Mirror from Michigan-based Tenebras Design is meant to stand against a wall as a floor mirror or hung on the horizontal; $225 directly from Tenebras.

Above: Designed by Treviso, Italy-based Luciano Bertoncini in 2011, the Large Luciano Mirror in a white or black epoxy powder-coated finish is $795 from Design Within Reach.
Above: The Infinity Leaning Mirror is made of beveled-edge glass and finished with thin stainless steal frame for $649 from Room & Board.
Above: Designed by Niels Bendtsen, the Lean Mirror is made of wood veneer in British Columbia and leans at a 5 degree angle (it also includes a wall mount safety bracket to securely hold the mirror to the wall); $842 from Hive Modern.
Above: The Silver-Gilt English Dressing Mirror has a low-luster silver finish and slim proportions (it's only 2 inches in depth); $475 for the 72 inch size from Restoration Hardware.
Above: Ethnicraft's Teak Mirror is made from FSC certified wood and is made to lean against the wall as a freestanding mirror or flush mounted with included keyhole bracket hardware. The mirror is $1,100 from Lekker Home (for more, see Simple Wood Furniture from Ethnicraft in Belgium).
Above: West Elm's Floating Wood Floor Mirror is made from glass and a solid wood frame and measures 72 inches tall and 30 inches wide; $399.
Above: The Linea Floor Mirror in FSC certified sustainable teak wood is $499 from Crate & Barrel.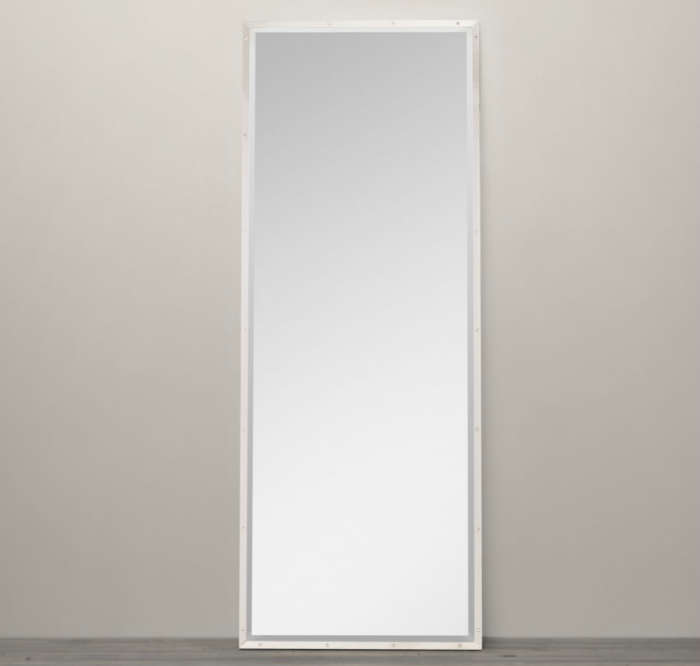 Above: Restoration Hardware's Bistro Polished Nickel Leaning Mirror is available in 72- and 84-inch sizes for $625 and $845 respectively.
Above: CB2's Infinity Standing Mirror has a thin aluminum frame and can be used as a leaning mirror or standing with an easel-style frame; $199. Another option is the slightly wider Infinity Floor Mirror without the easel frame for $399.
Looking for more mirrors? See Sliding Barn Door Mirror, Vintage Mirrors Painted White, and High/Low: Coat Rack + Mirror Combos.