We're noticing a surge in round mirrors lately; here are a few favorites.
Above: The Hang Mirror, by Portland, Oregon–based designer Brendon Farrell, is made from hand-stitched American bridle leather and a turned oak (shown) or unfinished brass wall hanger. The mirror is available in three sizes and pricing starts at $1,000 for the smallest size from Keeps.
Above: The classic Adnet Round Mirror (designed by Jacques Adnet and made in Denmark by Gubi), features mirrored glass wrapped in a luxurious hand-stitched, full-grain aniline leather strap fitted with brass hardware. It comes in two sizes (medium and large); starting at $1,099 from DWR.
Above: Designer Tyler Hays of BDDW has his own version of a leather-wrapped mirror called the Captain's Mirror. It's made from a distressed leather frame and strap, features a tiger maple lining, and has a machined bronze blackened puck and flange. The mirror is available in two sizes and two leather finishes (natural or dark mulled leather); starting at $2,500 from BDDW.
Above: A more affordable version of the Captain's Mirror is the EDDW Mirror offered by M. Crow (the sister company of BDDW). The mirror frame is hand-sewn from vegetable-tanned leather held by copper rivets and a white oak hanging puck; $650 from M. Crow. (The mirror is currently sold out from M. Crow but available from Lostine.)
Above: The Alta Vista Round Mirror by Casa Midy is offered in several different sizes and finishes with leather straps in various dyes. Contact Casa Midy for availability and pricing.
Above: Enter Mirror, designed by Soren Rose for Ferm Living, has a round mirrored surface on a powder-coated metal backing, which is held by a leather loop. The mirror comes in two sizes and pricing starts at $135 from Lumens.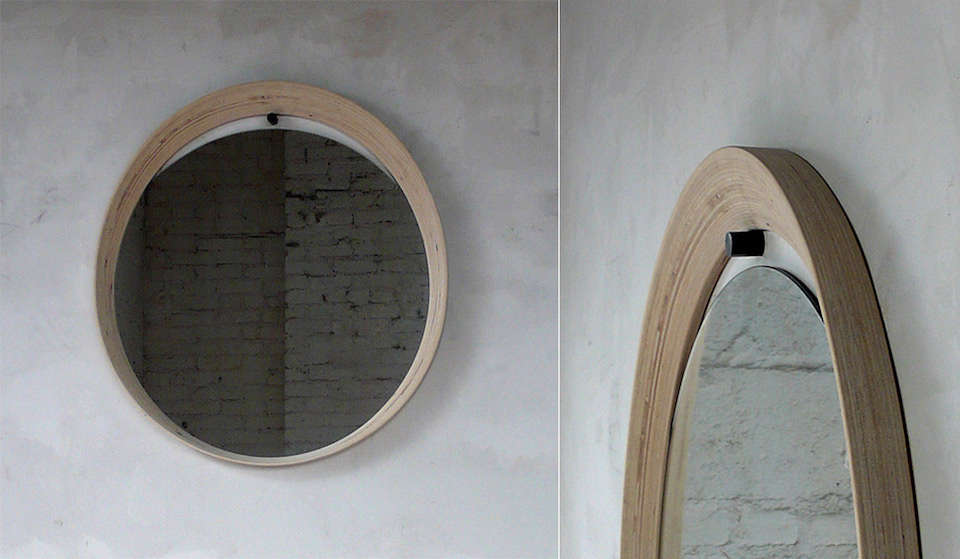 Above: Also designed by Brendon Farrell is a circular Mirror with a plywood frame. For pricing and availability contact Brendon Farrell.
Above: The Hoop Mirror is made from iron and glass and comes in two finishes (iron and brass); $248 from Anthropologie.
Above: The Modern Hanging Mirror takes cues from the classic captain's mirrors, featuring a wooden peg and a decorative faux leather strap; $169 from West Elm.
Above: The Strap Mirror by Danish brand Hay is framed in powder-coated steel and hung from a gray silicone strap. The mirror is offered in a small and large size and additional straps can be bought in colors rose and mint. Pricing starts at $240 for the smaller size and extra straps cost $40 each, sold via the A+R Store in Los Angeles.
Above: Designed by Broolyn-based Egg Collective, the Harvey mirror rests on a triangular brass frame that is mounted to the wall; $850 from DWR (Harvey is a DWR exclusive).
Above: The Hang 1 Large Round Mirror from Blu Dot is a frameless polished mirror with a solid walnut hanging peg; $399. The Hang 1 Mirror Series offers several differently shaped mirrors.
Above: The sculptural Rise + Shine Wall Mirror, designed by New Works and London-based designer duo Hunting & Narud, is a wall-mounted mirror counter balanced with a oak disk and a solid brass or steel weight. The mirror height can be adjusted by pulling a rope. The mirror is available in two versions; natural oak and brass weight, and burnt oak and steel weight; $590 from A+R Store.
Above: The Are Ring Mirror with Chain is made from black rusted metal and a vintage chain. Contact Cisco Brothers for pricing and availability.
For more Remodelista mirror posts, see:
(Visited 25 times, 1 visits today)