A friend recently asked me for help finding an ironing board presentable enough to leave out in the open. While I did my research, he plunged ahead and bought a white plastic monstrosity with a hospital-blue polyester cover. After using it once and conceding defeat, he asked me again: Are there any decent ironing boards out there?
There are. Here are 10.
Above: This Fibertech Ironing Board by Household Essentials has a recycled fiberboard, a cotton cover, and a metal lock to keep the unit secure while standing or folded for storage; $49.99 on Amazon.
Above: This Wood Ironing Board with Cotton Cover is a study in neutral; made of solid wood, it has a padded surface and a heavy cotton cover. It's adjustable to four different heights and folds flat for storage; on sale for $69.99 (down from $99.99) at World Market. 
Above: West Elm's Bamboo Ironing Board has a bamboo frame and composite fiber top, plus six optional Ironing Board Covers in stripes and plaids; $79.95 at West Elm. 
Above: This Ironing Board from Rejuvenation has a metal iron rack on the end and a small wooden rack to hold folded items. It's height-adjustable, folds flat for storage, and is made of beechwood with a cream cotton cover; $99 at Rejuvenation.
Above: The Midcentury Ironing Board from West Elm is made of solid ash and folds away for easy storage. It's currently on sale for $99.99 (marked down from $199) at West Elm. 
Above: Williams-Sonoma's European Ironing Board is made in Italy of FSC-certified beech with a slotted ironing surface made of steam-resistant pine and a galvanized metal iron rack. It's adjustable to two heights; $129.95.
Above: The untreated ash Ironing Board Au Pair is made by Side by Side, a designer/manufacturer that pairs craftspeople with apprentices who have mental and physical disabilities in its workshops in Germany; €165 (about $180) from Connox. (The remote control holder pictured here is, unfortunately, not included.) 
Above: One of two metal boards we like, the Laurastar Plus Board is made in Switzerland of black aluminum and folds flat for storage; $253.54 at Wayfair. 
Above: Manufactured in Italy, the Aris804 Floor Standing Ironing Board is beech with a stainless steel iron shelf and wood shelf for clothes. When folded flat for storage, the unit glides on wheels. Available in cherry (shown here) and natural, it's $431.20 at Homeclick.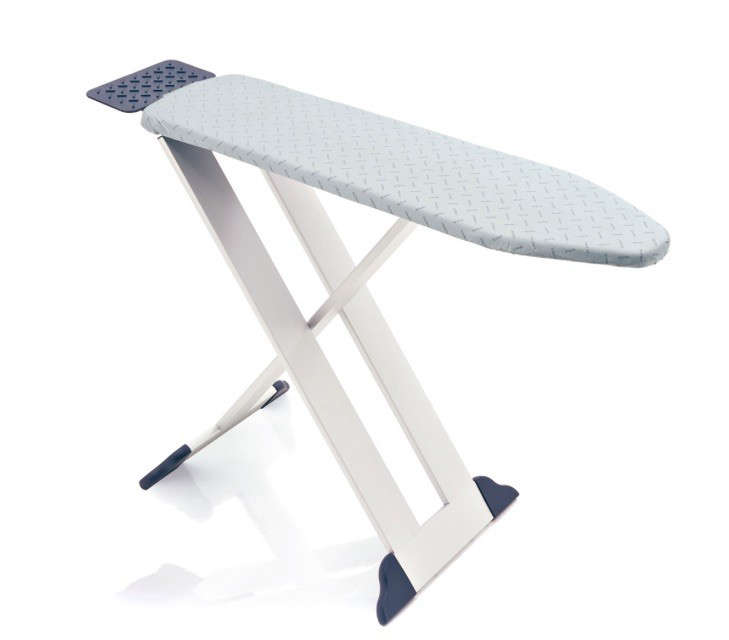 Above: The Amleto Ironing Board is a functional collector's piece from Italy designed in 1992 by Design Group Italia and fabricated by modern furniture manufacturer Magis. It's made of anodized aluminum, steel, and rubber, and folds (very) flat for easy hanging storage. High design with a price to match, it's $684 at Hive Modern.
Take a look at more of our Domestic Science finds, including:
(Visited 1,260 times, 3 visits today)