Just in time for the rainy season—our roundup of doormats designed to handle the inevitable stampede of muddy shoes and garden boots.
See our recent post The Humble Doormat, Made Modern for more ideas.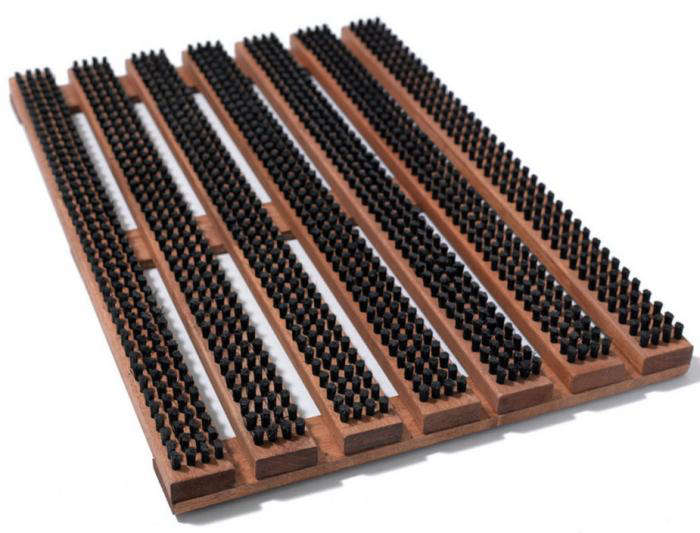 Above: A Remodelista favorite is the Swedish-made Iris Hantverk Wooden Doormat with Bristles featuring a beechwood slatted frame and rows of stiff bristles to take on even the muddiest of garden boots; currently on sale for $68 (normally $80) at Design Within Reach.
Above: Coir bristles combined with a steel wire frame add sturdiness to the Rectangluar Wire Coir Doormat; $31.99 at Wayfair.
Above: Designed by LA-based studio Commune, the Hex Doormat in black is 20 by 30 inches and is $60 from Lulu and Georgia.
Above: The streamlined Teak and Stainless Steel Doormat from Skagerak Denmark is $383 at Fixture Universe.
Above: Naturally mildew-resistant, the Heavy-Duty Teak Doormat is $59.95 at Crate and Barrel.
Above: Hand woven of Coir fiber harvested from organic coconut husks, the Braided Coir Doormat is on sale for $43 to $70 (regularly $49 to $79) depending on size at Restoration Hardware.
Above: The Maine Float-Rope Co. offers doormats that are handmade from recycled lobster-trap rope, available in an array of solids (shown in straw) and stripes; prices start at $54.95 for a Medium Float-Rope Doormat (18 by 30 inches).
Above: A similar take, Madshome's Rope Mat is handmade with solid color 100-percent Polypropylene rope (water-ski rope); $60 through Madshome Etsy Shop.
Above: The Hive Rubber Doormat is $18 (regularly $38) at Chiasso.
Above: Made of aluminum and artificial rubber, the Ribbed Doormat comes with a 10-year guarantee; €122 at Manufactum.
Above: The simple coir and steel wire Herringbone Coir Boot and Shoe Scraper is a good item to pull out as a companion piece for the wet and muddy months; $17.99 at Amazon.
N.B.: This post is an update, the original story ran on October 12, 2011.
Explore More: 10 Easy Pieces, Domestic Science, Rugs, Doorways & Entryways, Garden Boots
(Visited 29 times, 1 visits today)