For the past few years, Workstead design studio founders Robert Highsmith and his wife and partner Stefanie Brechbuehler have been working between Charleston, South Carolina, and Brooklyn, New York; one of their more involved projects was the Dewberry Hotel, a restoration of the Mendel Rivers Federal Building in Charleston.
"We started exploring the idea of what we call Southern modernism when we worked on the Dewberry," Robert says. "Our latest project, the Workstead House, is the residential evolution of that concept." In partnership with a New York City–based investor, the couple meticulously restored and reimagined the three-story, 5,600-square-foot Italianate Victorian row house, featuring work from local craftspeople and companies such as Charleston-based Urban Electric Co. "The end result is all-sensory experience of Southern modernism," Robert says.
Join us for a tour.
Photography by Matthew Williams, courtesy of Workstead.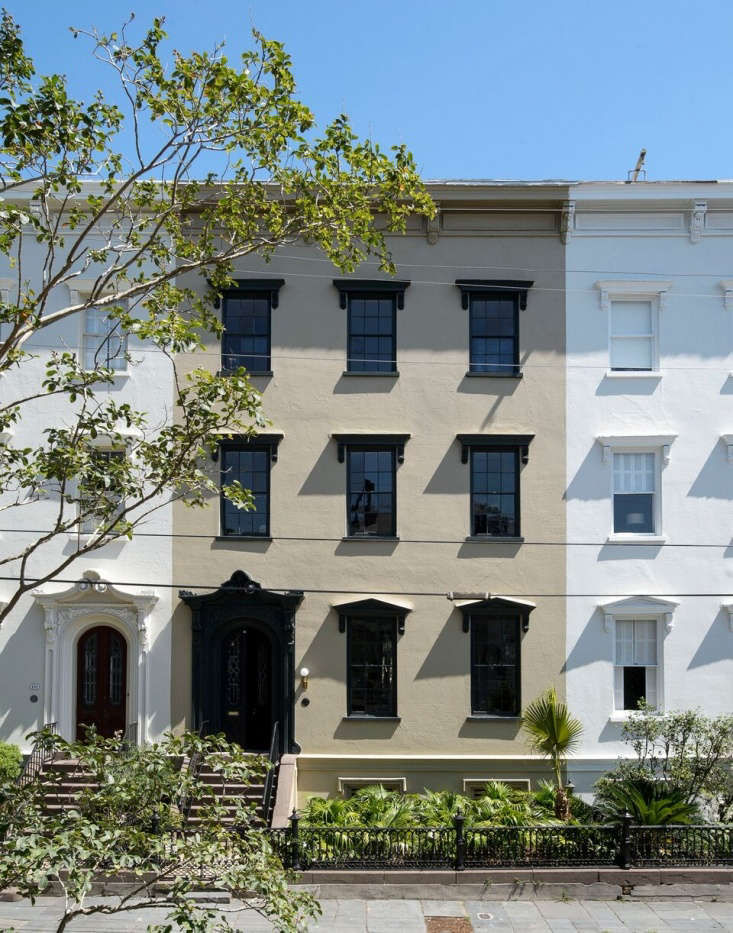 The 1853 house is one of four brownstones built on Charleston's historic Bee's Row in the historic downtown Harleston Village neighborhood. "With their terracotta cast pediments, fences, and elaborate interior moldings they look more like mid-19th century New York and Boston houses," Robert says.
When Robert and Stefanie undertook the renovation, "the house was in terrible shape," Robert says. "There had been a fire, and there was a huge amount of smoke damage. On the plus side, there were lots of salvageable materials—although we had to do quite a bit of restoration—including the original rope trim around the doorways, decorative corbels, and little transom windows above some of the doors. The floors are the original heart pine, which we refinished." The interiors are painted a uniform shade of Farrow & Ball's Savage Ground, a warm, yellow-based neutral.
The project "gave us the opportunity to work with some of our favorite Charleston makers, like Urban Electric Co., and to bring in pieces from our friends at BDDW and Sawkille in New York," Robert says. "We've become good friends with Urban Electric founder, Dave Dawson; he's a great human being. The company employs upward of 250 master craftspeople locally and their output is very impressive; there's a lot of local pride involved. We wanted to create a timeless restoration/renovation, and working with Urban Electric was important because they curate a series of fixtures that speak to the time period but also to a more modern sensibility."
See more from Workstead:
(Visited 1,791 times, 11 visits today)