In the UK and Europe, where streets are often narrow and houses look right onto the pavement, gaining privacy while preserving light is often an issue for those who eschew curtains. Here are a few solutions that tackle the issue.
Above: Designer Cynthia Carlson uses double-hung windows in the bathroom of this LA Home covered with a simple oil cloth roller shade and translucent glass in the lower half of the window and clear glass above.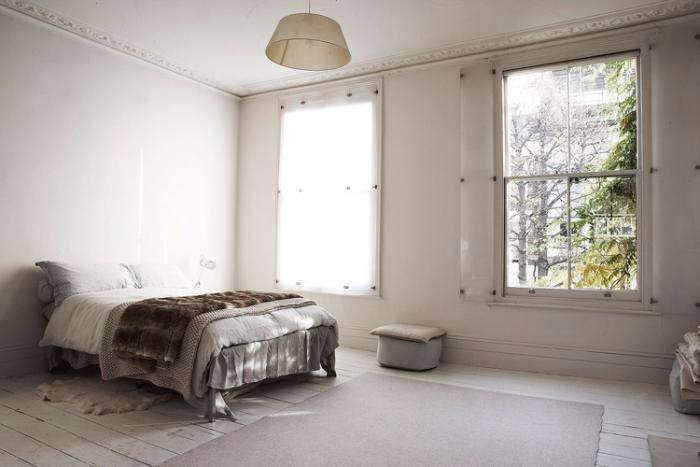 Above: Light diffusing opal perspex shutters with chrome hinges cover the windows of this London home. Made to order the shutters are available from Parma Lilac, for pricing contact directly. Photograph via Shoot Factory.
Above: A house in London by Carl Turner Architects with sliding translucent doors that open up onto a balcony. Photograph by Ioana Marinescu.
Above: A bathroom in the same London home with translucent windows via LIght Locations.
Above; The living room in this London home uses translucent glass on the bottom panels with the upper ones left clear. Photography via Light Locations.
Above: A house in Amsterdam that opens straight onto the street uses strips of film on the window allowing for privacy without having to compromise their light source. (No mean feat in the grey winter months). For a similar look, Gila Frosted White Window Film is easy to install on standard residential windows. $20.67 for a 48-inch-by-6.5-foot roll from Amazon. Another option is static cling film, the Non-Adhesive Frosted Privacy Window Film is $24.99 for a 3-feet-by- 6.5 ft foot roll from Amazon.
Prefer the idea of shutters? Check out our post on Indoor Shutters.
See more of our posts on Windows.
(Visited 240 times, 1 visits today)