After a day spent obsessing about color, texture, and ornament, what would you want to come home to? For fashion designer Michael Kors, the answer is an apartment that's "clean, spare, and simple, but the pieces have presence and quality, which is the same approach I take to designing clothes."
Kors and husband, Lance LePere, collaborated on their 2,200-square-foot New York City penthouse with interior designer Glenn Gissler, a member of the Remodelista Architect/Designer Directory. "Michael is very specific; he likes things to be understated and very edited, using a limited number of materials and colors," says Gissler.
Gissler describes the look as "classic modern seen through a 21st-century filter," by which he means iconic furniture by Florence Knoll, Mies van der Rohe, and George Nelson set in a chic, custom-tailored shell. Anyone who follows Kors's designs knows that updated American sportswear is his bread and butter, but he's equally inclined to take on glamour and whimsy. To that end, the apartment's decor gives a nod to the seventies, when, according to Kors, "New York was really fun!"
Gissler and Kors's friendship goes back nearly that far: "Michael used to get his hair cut by my first wife in our loft in Soho," says Gissler. That's when Kors took note of Gissler's talent: "Little has changed from our conversations 27 years ago," says Gissler. "This is a full reflection of Michael's dream apartment."
Above: Throughout the apartment, Gissler zeroed in on a palette of black and white, set off by wood and metal accents. "I often hear about incredibly long days of back-to-back design meetings," says Gissler. "At home, Michael and Lance are seeking visual calm."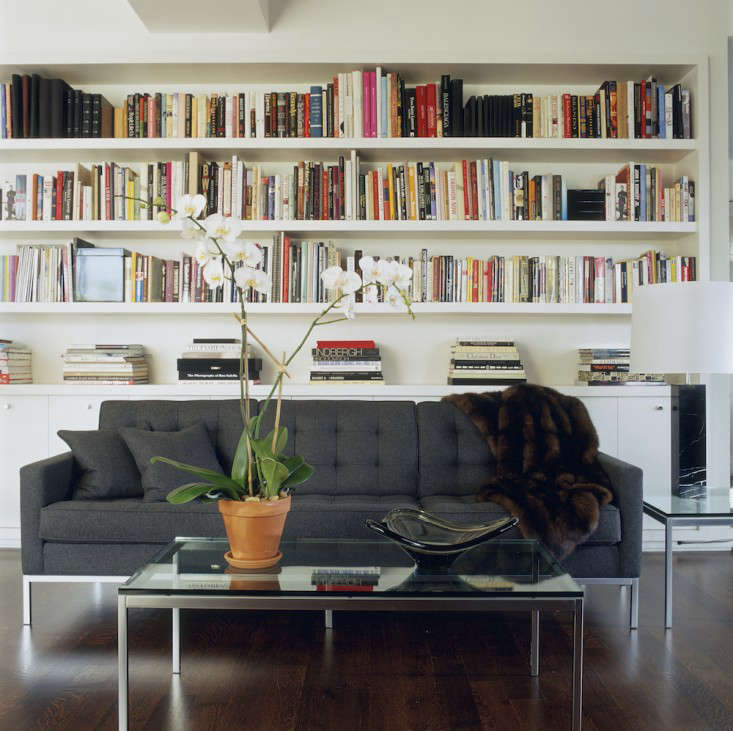 Above: Lance, a creative director at Michael Kors (the two met at the office), already owned the Florence Knoll sofa and side tables, as well as several stone-based lamps, and Gissler helped fill in the blanks. In the living area, Kors's favorite reading material lines the bookcases: "I love books on photography and design, and I love biographies, whether historical or of the trashy celebrity variety."
Above: A view of the airy living and dining areas. Kors, who is known for going sockless, prefers rug-free living in the main rooms.
The penthouse has two bathrooms, but no office. Says Gissler, "Michael and Lance have a team of people who provide backup for anything and everything to help manage their overscheduled lives."
Above: A Barcelona chair and stool by Mies van der Rohe. 
Asked about his favorite part of the design, Gissler responded: "The most important piece of the equation for me is that Michael has someone to share his life with; this apartment was a joint effort and designed with and for both of them. They make a great couple, and that is the thing I like most."
Above: The sectional sofa and large black coffee table are Gissler designs inspired by the Kors aesthetic: "tailored, classic, understated, and chic."
Above: A Barcelona daybed by Mies van der Rohe. Of Kors's approach to room design and fashion, Gissler said: "Edit, edit, edit. Only the essential elements remain."
Above: The kitchen's custom cabinets are made of white Corian, with counters and backsplash of honed absolute black granite. "Both materials are simple, monolithic, and easy to maintain," says Gissler. 
Above: A George Nelson pendant hovers over a custom table. Though the dining room is perfect for parties, Kors and LePere rarely entertain. "They both work incredibly hard and travel so much that their home is a quiet escape," says Gissler.
Above: In the serene bedroom, Pyrex industrial glass lamps designed in 1971 by John Saladino stand on custom bedside cabinets. White canvas curtain panels cover the windows and a Florence Knoll bench sits at end of bed.
Above: A pair of fur throw pillows on the bedroom lounge chairs is reminiscent of Kors's designs. Says Gissler, "It seems to me that Michael's fundamental design credo hasn't really changed in the nearly three decades that I have known him. He is very consistent."
Above: The master bath is clad in Calacatta Vision Marble from Stone Source, in New York, and has stainless steel Timpani Vessel sinks by Kohler. "Michael specifically requested an all-white bath," says Gissler. "He spends so much time in hotels around the world, he wanted to create his version of the ultimate luxury bath–simplicity, space, and piles of thick white towels."
Read more about the lives of the fashionable: