Sometime in the second half of last summer, we started to see photos of an intriguing new inn in the Berkshires, cheekily named Tourists, popping up on our Instagram feed. One week, a creative director we know posted snapshots of her guest room there, with its de rigueur plywood bed and alluring practical minimalism; another week, a photographer we follow on the platform was there, enticing us with shot after shot of idyllic scenery, twinkling outdoor dinners, and impossibly stylish interiors.
We were enamored with what we saw, but then fall came and we turned our attention from summer escapes. Well, it's now July again, and we find ourselves once again dreaming of the hotel.
There are good reasons that creatives flocked to Tourists almost as soon as it opened last summer. For one thing, it came with serious street cred: Joining the hotel's lead partner and designer, Ben Svenson, was an A-list investor group of creatives and foodies, including John Stirratt, of indie rock band Wilco; Eric Kerns, co-founder of Bright Ideas brewery; Scott Stedman, the founder of Brooklyn Magazine; and Corey Wentworth, formerly of Boston's Flour Bakery.
For another, it's perfectly situated. Tourists has all the perks of its Berkshires location (trailheads are on the property), and it's just a seven-minute drive from MASS MoCA. And then there's its spare (but not spartan), elevated (but not fussy) style that gives it such fresh appeal. It's camp for discriminating adults.
See for yourself.
Photography by Nicole Franzen, courtesy of Tourists.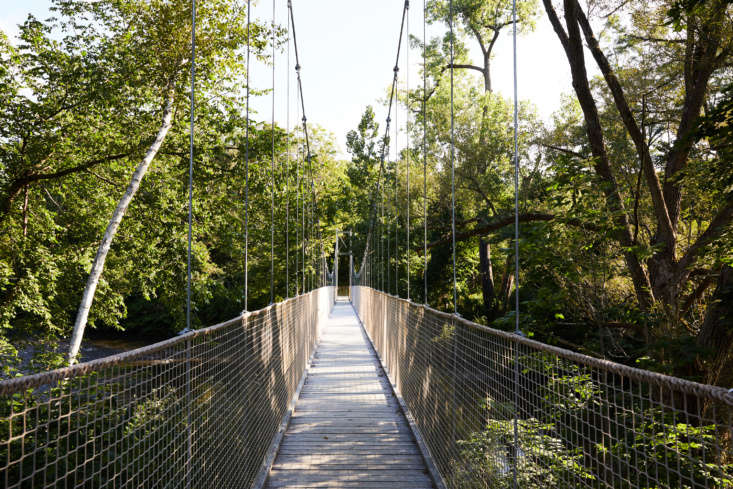 For more on the Berkshires, see:
You need to login or register to view and manage your bookmarks.