Earlier this the week, we presented the ingredients for the classic Swedish Midsummer table, garlands and schnapps glasses included. At home in the Hamptons, Finnish fashion stylish and shop owner Tiina Laakonen takes her own pattern-filled approach to the holiday. At our request, she set her table a few days in advance of the solstice–it's this Saturday, June 21–and let us in on the plans.
Photographs by Heikki Aho for Remodelista.
Above: Tiina adheres to a palette of black, white, and blue in every room in her house–for a tour, go to our Monday post Rhapsody in Blue. So we weren't surprised that she applies the same scheme to her table: "Blue and white," she points out, "are the colors of Finland and our flag." The tablecloth is made of Marimekko yardage in Yhdessa, a patchwork design available from Tiina's Amagansett, NY, shop, Tiina The Store; it provides the backdrop for a playful but cohesive mix of patterns, all from Finland. 
Above: Tiina uses three different plate and napkin patterns: "By sticking to a simple color palette, you can mix patterns in a free way," she says. "The black and white Marimekko designs are all classics and most have a similar hand-drawn look. The blues add color and keep it all from looking too stark and cold." The black-and-white plates are the Paratiisi pattern from Arabia; the blue and white are Arabia's Valencia pattern (now discontinued); and the black plates are Iittala's Teema design, the subject of this week's Object Lesson.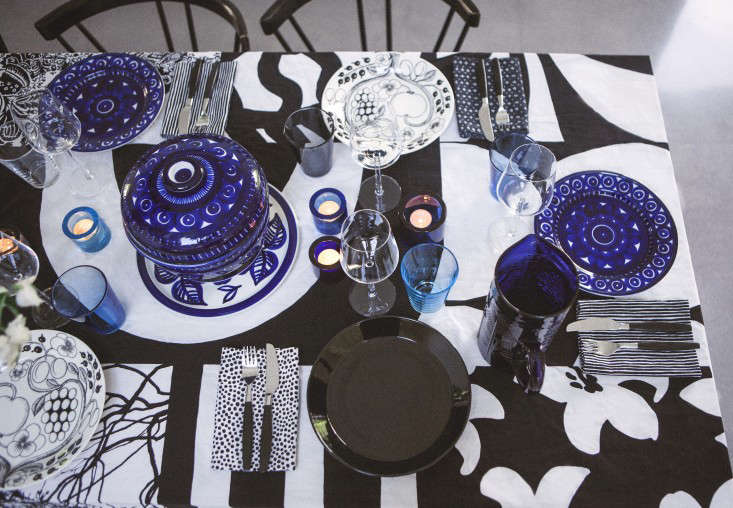 Above: The midnight blue Valencia plates and covered bowl were a wedding gift to Tiina and her husband, Jon Rosen, from Tiina's family in Finland. Though production ceased in 2002, the pattern can be sourced on Etsy and eBay. The wine glasses are Essence and the water glasses in blue and gray are Kartio, both from Iittala. Similar Marimekko napkins are available from Marimekko. The flatware is the Lion pattern from Hackman, sold by the Finnish Design Shop. The votives in shades of blue are the Kivi design from Iittala. The pitchers are vintage Finnish.
Above: The table and bench are from Dutch designer Piet Hein Eek's scrapwood series. Not everyone likes a bench, but I do," says Tiina by way of explaining the table's compromise: a bench on one side and Scandinavian chairs from eBay on the other. Landscape designer Deborah Nevins, a Hamptons neighbor and member of the Remodelista Architect/Designer Directory, supplied the fragrant flowering branches.
Here's Tiina's Midsummer menu, which is being cooked by her friend Petteri Luoto, a New York-based Finnish artist and chef:
– Mixed tomatoes with feta, cilantro, and sweet red onion dressing
– Roasted vegetable trio: zucchini and broccoli with fennel vinaigrette; curry-roasted cauliflower; ad green asparagus, snow peas, and scallions with dill pesto
– White asparagus with truffled corn sauce
– Slightly smoked vendace (a freshwater whitefish) with grated golden beets and apples and micro greens
– Ceviche of cod, avocado chunks, and mama's cucumbers
– Roasted whole sea bass with Kalle's Caviar remoulade
– Summer potatoes crushed with lemon, brown butter, and grated horseradish
– Japanese-style spiced ground beef served with fresh cabbage leaves
– Traditional lamb worschmak from Finland in a crispy crust
– White chocolate panna cotta with liquorice and fresh berries 
For the complete tour of Tiina's house, see "Fully Finnish" in the Remodelista book.  
More table setting ideas?  Have a look at Easter in the Garden with Diane Keaton and Gwyneth Paltrow's Spring Lunch in London.
You need to login or register to view and manage your bookmarks.