James Brown, the 28-year-old owner of always edgy London fashion boutique Hostem, had a yearning to move into art and furnishings. But rather than simply expand his inventory, he took on an entire townhouse, an elegant Georgian specimen in Whitechapel, a 20-minute stroll from Hostem's Spring Store and in-progress updated headquarters, both in Shoreditch.
With the company's artistic director, Christie Fels, who has a background in interior design, Brown fully overhauled and furnished the house, borrowing from favorite galleries, shops, and tastemakers in town. Little structural work was done, but every room was refurbished, a careful balance of moody and pale paint colors included. A test lab for Hostem's first foray into home design, the three-bedroom structure is now available to rent as a whole by the night—and much of what you see in it is for sale.
Photography courtesy of The New Road Residence.
Above: The well-preserved brick house dates to 1787 and was initially a linen draper's store. The shutters were modeled after Georgian designs in the neighborhood and fabricated by Hostem's own in-house wood shop.
Above: The house's paneling is all original as is the wide pine flooring. The dining ensemble, shown here, is Faye Toogood's Rolypoly table and chairs and the silkscreened collages are by David Noonan.
Brown and Fels dressed the house in a crisply serene palette: "There are over fifteen different colors from six suppliers," she told us and mentioned London's Paint & Paper Library as one of their sources.
Above: The aim was to transform the house into "a rustic and minimal haven," says Brown. The living room furniture is all bespoke (and not for sale). The bay window, framed in blue, overlooks a walled garden.
Above: There are working fireplaces throughout. The leather log basket is by Rick Owens, one of the designers in the Hostem stable. The stone flooring is original.
Above: The house's kitchen is an existing design (from a 2013 remodel) by Remodelisa favorite Plain English. It includes an island with a breakfast counter, glazed wooden screen that sections off the pantry/scullery, and wine cellar. The counters are made of teak; fridge and dishwasher are in below-the-counter drawers. All of the house's "functional housewares," such as the such as the Sori Yanagi kettle, are from Labour & Wait.
Above: A metal-framed fireplace bench.
Above: A Tim Stoner landscape and a collage by Torey Thorton. All art is on loan from Stuart Shave's London gallery, Modern Art.
Above: Brown describes the four-story residence as "an opportunity to experience one of the most historically preserved houses in East London."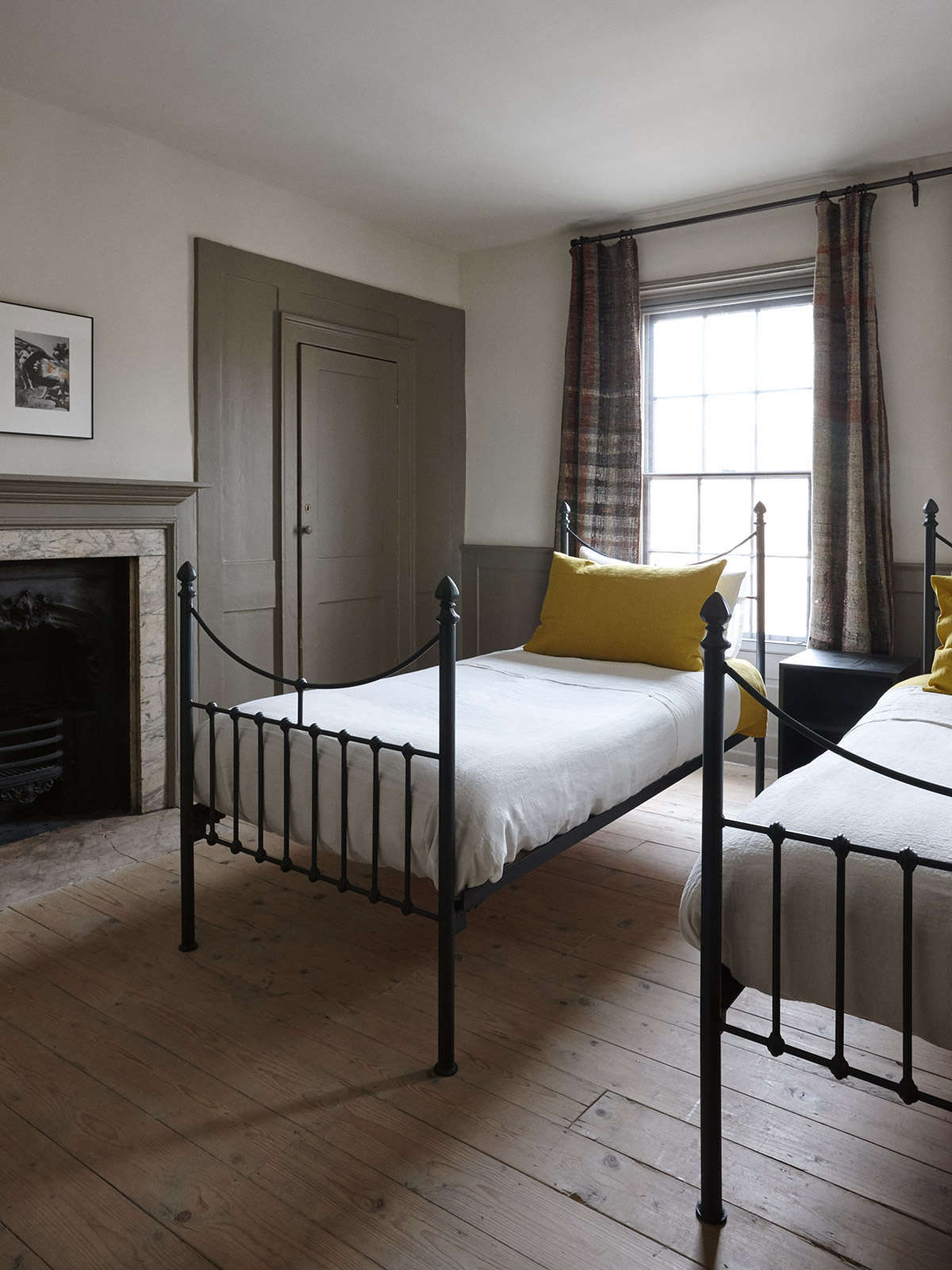 Above: There are two double rooms on the top floor with iron bedsteads, unfortunately not for sale, but the bedding is: the linen sheets are from Once Milano and the duvets are by Norvegr of Norway.
Above: Warm mustard walls in a bedroom corner with a woodstove inset in the fireplace. The chair, inspired by a milking stool and a spade handle, is a Faye Toogood design, and the writing desk is a Pierre Jeanneret Chandigarh design from 1959.
Above: The master bedroom room has an en suite bathroom/dressing area with a custom freestanding copper tub and wraparound wardrobes. The Welsh rug is from Labour & Wait. Note the settle with the radiator underneath. The wood-paneled shower is designed for two.
Above: An existing glass conservatory overlooks a west-facing courtyard. The bench is a midcentury Swedish piece.
Above: The New Road Residence rents for £1,200 (approximately $1,560) a night and sleeps six; it's at 33 New Road, E1 1HE London.
For a US-based similar retail concept, check out The Line:
(Visited 871 times, 9 visits today)