Two years ago, Sara and Rich Combs were on a monthlong cross-country road trip when they visited the Southern California desert outpost of Joshua Tree. They only stayed a night, but it was long enough to take a hike, size up the funky little community, and fall in love: "It's a place that instantly relaxes and inspires." Soon, they were back and buying a house in town. "We joke that rather than dating Joshua Tree, we just asked it to marry us."
Despite the fact that their home base and Web design business are in San Francisco—an eight-hour drive up the length of the state—the newly minted remodelers embarked on a total overhaul of the place themselves, working over much of a summer. That became the Joshua Tree House, their first Airbnb property. They've since succumbed, entirely unplanned they say, to a second too-good-to-pass up house that required, among other things, a new kitchen and bath. Our friend NYC-based photographer Kate Sears was among the first to check in.
Photography by Kate Sears.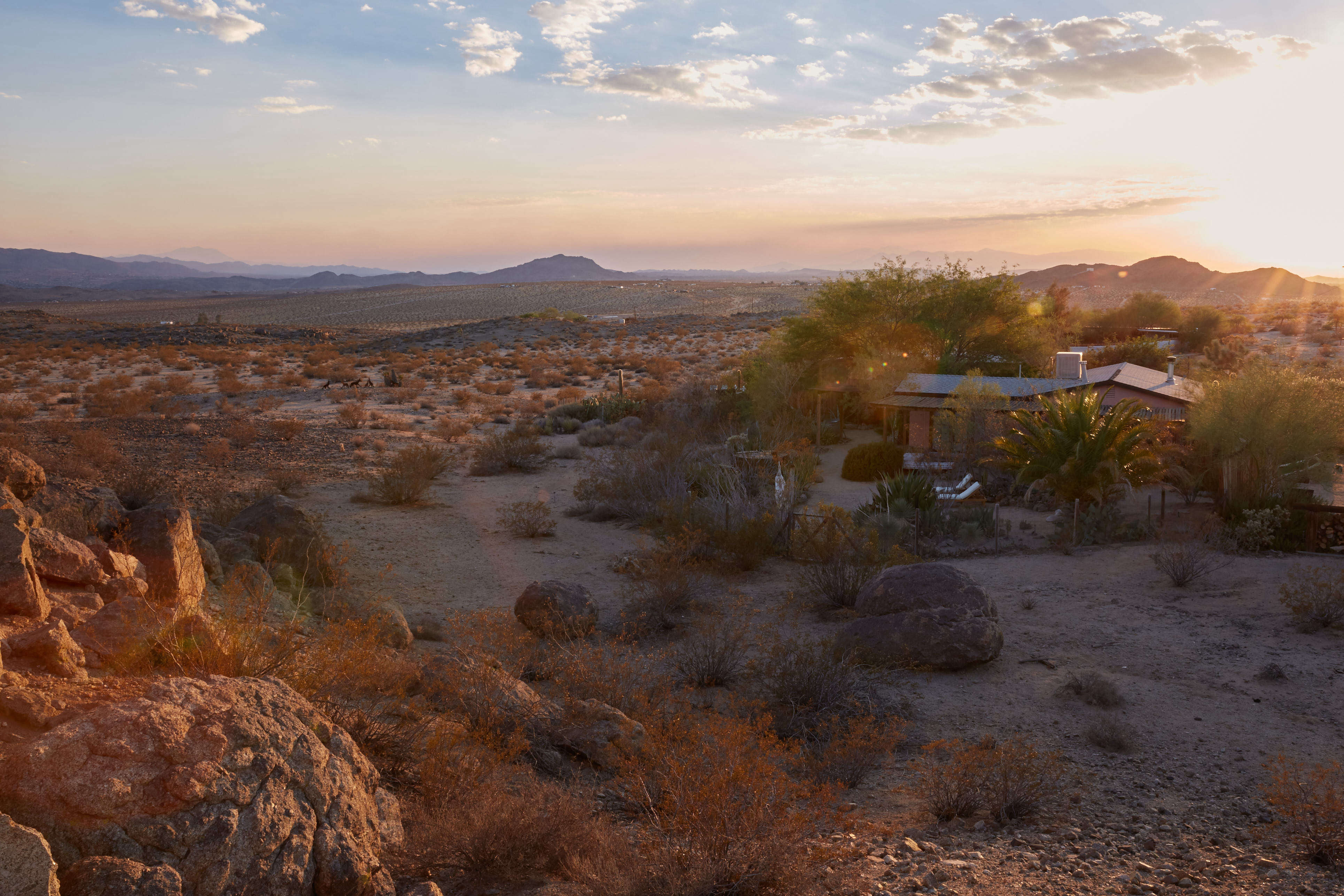 Above: Built in 1958 as a homesteader cabin, The Casita is surrounded by 900 acres of protected land that serves as a wildlife corridor to Joshua Tree National Park, 20 minutes down the sandy road. Town is about 12 minutes away.
Above: A wood pergola extends out from the entry, connecting the newly painted house to the garden. Mature palms, cacti, and other plantings were already in place; it was the secluded grounds that the couple fell in love with.
Above: Outdoor daybeds are positioned for taking in the landscape and the silence.
Above: Aiming to "bring the house into modern times while holding on to its western charm," they launched the project by tearing down walls in the living area. "The flow was awkward and once we got rid of some walls, the space was completely transformed," says Sarah.
Budget-conscious from start to finish, they called in help as needed—to make sure nothing load-bearing came down, for instance, and take care of large electrical and plumbing needs—but mostly went it alone.
Above:  To retain a cabin feel, the couple ambitiously replaced the living area's popcorn ceiling with tongue-and-groove paneling. We've shown easy DIY paneled ceilings, but this is the real thing: "We used varying lengths of one-by-six-inch tongue-and-groove pine, sanded and stained each board, then slotted them together, and individually nailed them into the studs."
Above: How to tackle your first kitchen? "Rich's dad is the owner of a hardware store and we're so lucky to have his wealth of knowledge," says Sara. "Between calls to him, YouTube videos, and reading, we learned as we went."
In place of a kitchenette tucked into a closet, the living area now has an open kitchen with a simple white-tiled backsplash. They found their cabinets at Home Depot: "We picked out the various fronts, colors, sizes, and drawer types that we wanted and kitchen designers on staff helped us customize them right there on the spot." They used Thomasville's Blythe Cabinet Doors in charcoal and made the leather pulls themselves (to make your own, see our DIY video).