Tantrum is not your average saccharine kids store. The brainchild of South Carolina transplants Amanda and Richard Weld and their partner, Michelle Spear, it is a rare combination of sophisticated style and timeless playfulness that makes it as much fun for grownups as for their children. 
Tantrum's unique character stems from a rare marriage of classic, mid-century style with the best of today's handmade toys, all curated within the theme of a lively, old fashioned circus. The evolution of Tantrum started when Amanda, a former illustration major at Savannah College of Art and Design with a penchant for mid-century graphics, was casting about for a theme for her son's first birthday. The idea of a carnival, which encompassed so many of the Americana visuals that Amanda loved, was such a success that the family has continued this theme ever since–for the past 6 birthdays and now as a new children's store that encompasses all the magic of the big top.
Above: Like a big top of yore, the bright colors and bold graphics of Tantrum entice you to enter the spectacle of wonders within.
Above: Once inside, the carnival theme continues with a dark interior punctuated with colorful toys and circus stripes. 
When Rich and Amanda acquired this space on Cole Street in San Francisco, its charm was buried under decades of bad linoleum and ugly paneling, as well as a drop ceiling. To achieve the look they wanted, the couple, alongside Michelle and her husband, Jonathan, striped back all these layers to reveal beautiful hardwood floors and tongue-and-groove walls (as well as myriad bobby pins and a receipt from a 1945 hair salon).
Above: Authentic vintage and retro-inspired pieces stand alongside hand-crocheted garlands and other festive accents. Amanda explains her approach: "We seek out toys that are designed to look amazing when strewn about on the child's floor or left on the living room couch. A lot of toys can look great when strategically placed on a shelf, but the reality is that we, as parents, will have to live among them too."
Above: At the entrance, a vintage gum-ball machine and seal ride, red stripes, as well as a ringmaster's top hat seem right out of the set for Water for Elephants.
In what was perhaps an overly optimistic move, Amanda decided that her first sewing project ever would be to stitch the striped panels of the curtains herself. Though grueling, it was worth the effort, for the signature curtains make the space. For big top birthday parties, these can also be drawn the length of the room.
Above: Another playful mix behind the cash register features a vibrant vintage phone as well as a Martin Krusche moon print from Mokkasin.
Above: Conjuring images of antique frocks with scalloped collars and sailor ties, handmade, vintage-inspired clothing by Claudine and Compagnie (collars) and Misha and Puff (knits) rests on an antique school desk.
Above: At the entrance, a vintage seal ride sourced from Kiddie Rides USA tempts children who pass by the store.
Above: Of course, Tantrum supplies all you need for your own circus theme party. (Well, almost. If you want a vintage merry-go-round like Amanda had at her son's first b-day, you'll have to rent that yourself.)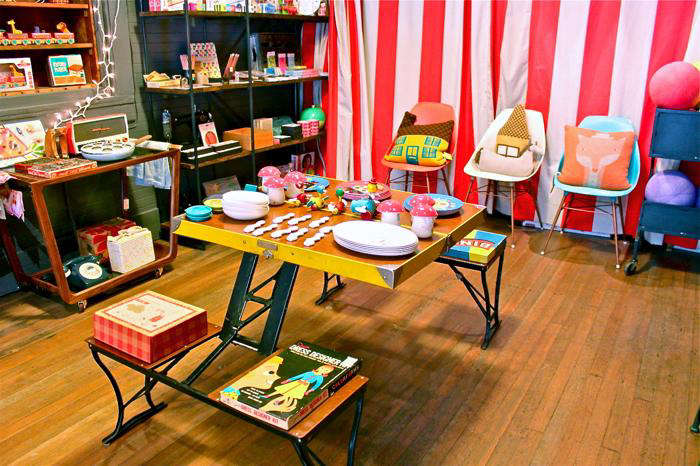 Above: A vintage folding picnic table offers Tantrum's orignal mix of retro and modern fare.
Above: Whether vintage or contemporary (like these dolls from Petit Collage), everything at Tantrum is in keeping with the look and feel of a mid-century carnival.
You can follow more developments at Tantrum via their Facebook page.
N.B. Looking for more inspired shops for little ones and their stylish parents? Visit an another of our California favorites, Maude.
You need to login or register to view and manage your bookmarks.