"Each piece begins as a rough concept sketch and is slowly brought to life through a careful alchemy of design work, material sourcing, and production methods," says Susan Connor of her hand-printed textiles. 
The self-taught designer moved to New York in 2007 and fulfilled a longtime dream to live in a city full of life and diversity–and inspiration for fabric patterns. In 2014, Connor presented her first collection of limited-edition pillows and throws made in her studio in Bushwick, Brooklyn. Here's a look at her latest work and some of the steps that go into it. 
Photography by Susan Connor.
Above: Connor's pattern designs begin as intricate hand-drawn sketches, which she then carves onto blocks for hand stamping textural patterns onto fabric. 
Above: The fabrics have a bohemian, relaxed feel. "My work gives a nod to traditional block-printing styles and techniques, but pushes the boundary of detail achievable with hand-printing," says Connor. 
Above: The Ponti Cushion of ivory linen is patterned with a hand-printed geometric design in indigo. All cushions are available in four sizes and come with a 10/90 down insert (10 percent down, 90 percent feathers). A 12-by-18-inch cushion (shown) is $115 from Connor's online shop.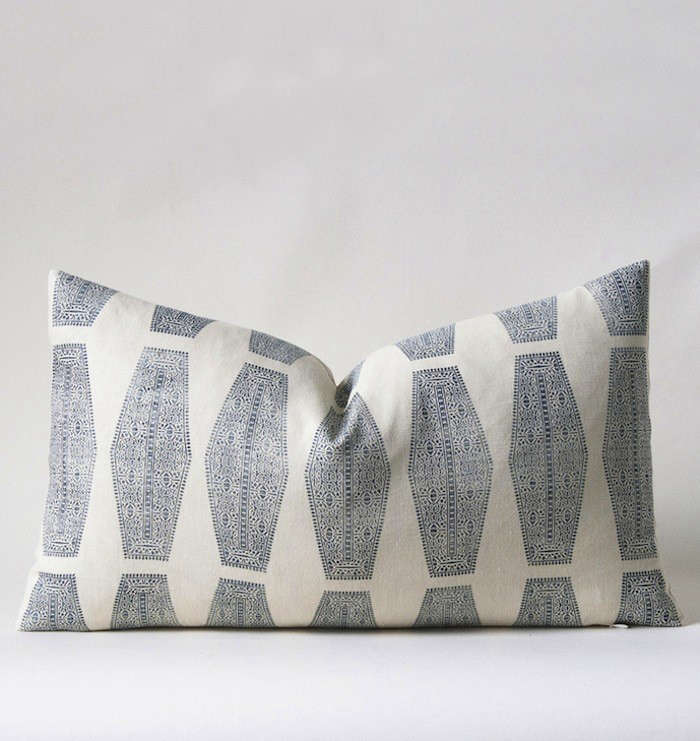 Above: The ivory linen Inlay Cushion has a design inspired by a set of ancient wooden inlaid doors. The cushion is $150, insert included.
Above: The Tribe Indigo Chambray Throw is 72 by 57 inches and can be used as a bedcover, tablecloth, or picnic blanket; $160. 
Above: A linen Vatta Cushion starts at $115 for the smallest size; a linen Totem Throw, with a pattern inspired by ancient tools and jewelry, is $160. 
Above: Connor at work in her Bushwick studio. "From the start, the vision behind my company has been for my clients to feel as if they are in the studio beside me, in an artistic setting" she says.
Above: Connor's block carvings: "The goal is to allow the textural details in some of the carvings to become almost a second color, like a wash of texture." When asked what her blocks are made of, Connor told us she'd like to keep that detail her secret. 
Above: The Sabine Table Runner is a collaboration between Connor and small-batch design group Mavenhaus Collective. 
Above: Connor values linen fabrics produced in the US. Sourcing the right fabric to fit the printing technique is essential: "It has to be smooth enough to hold the print, yet soft enough to be comfortable for use in the home."
Visit Susan Connor to see more.
Browse more of our favorite artist-designed textiles:
You need to login or register to view and manage your bookmarks.