The impending arrival of summer houseguests has us thinking about finally undertaking our long-overdue rehab projects. Here, five different spaces–from five different houses–that have our remodeling wheels turning.
Before Entryway
Above: Blogger Emily Wright struggled to find an affordable solution to the textured and stained ceilings in her house. She describes the patch of ceiling in this photo as "really not so terrible in comparison to other spots that I wish I had photographed."
After Entryway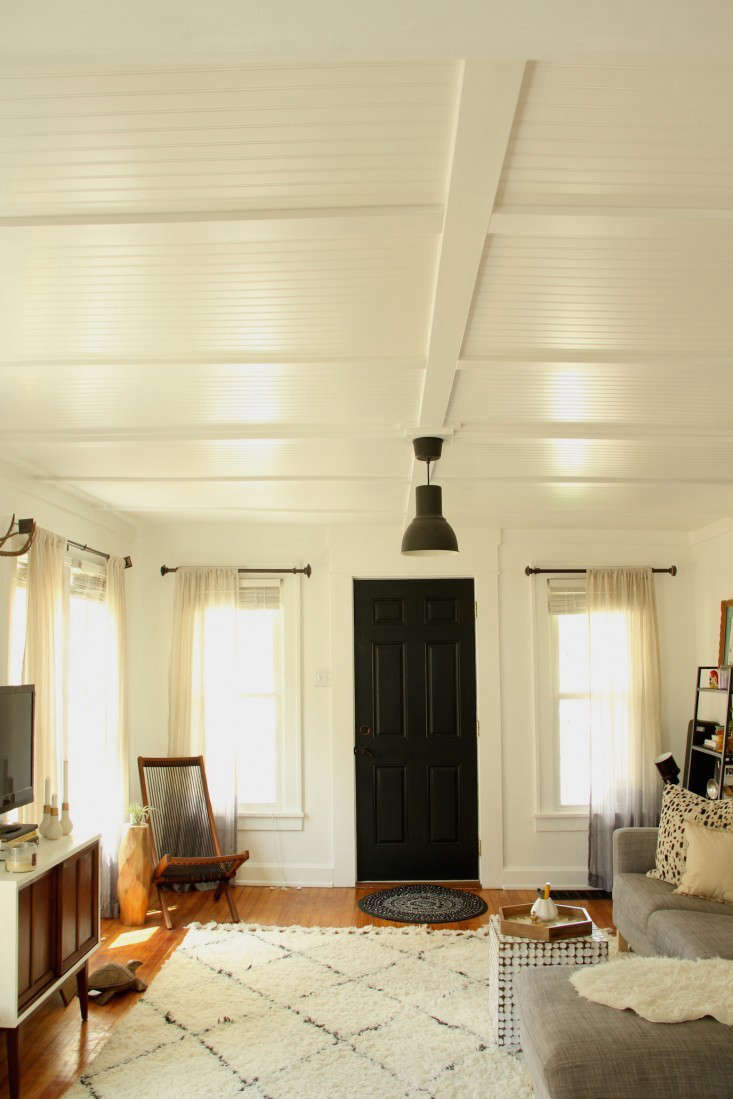 Above: Reluctant to tear down their ceilings, Wright and her husband settled on premade beadboard paneling that they painted and installed themselves. Get the details in Rehab Diaries: DIY Beadboard Ceilings and on Wright's own blog, Lifestyle and Design Online.
Before Kitchen
Above: An inconvenient flow (not to mention missing cabinet doors and counter tiles) made this 1970s kitchen in an Edwardian house impractical for a family of four.
After Kitchen
Above: Owner Jan Hammock completely transformed the space, in part by removing a load-bearing wall and adding a bank of clerestory windows that let light pour in. Hammock's results won the 2013 Remodelista Considered Design Award for the best reader-designed kitchen. Read a profile of the project in Best Reader-Submitted Kitchen Space Winner: Jan Hammock. And consider submitting your own design to the
Before Bath
Above: Even before the sledgehammers arrived, this bathroom in the home of designer and blogger Shauna Haider was strictly off-limits to houseguests because of its broken plumbing and peeling paint.
After Bath
Above: Haider and her husband managed to keep to a $5,000 budget while adding floor-to-ceiling subway tile–thanks in part to Haider's husband, who installed the tiles himself. The navy towel and floor mat are from H&M. Read the full profile over on Nubby Twiglet.
Before Planter
Above: Remodelista editor Meredith inherited a decrepit window box when she moved into her urban apartment.
After Planter
Above: She reinforced the planter box and within a few months, had a productive herb and flower garden–minus lavender. Read about the project in How Did I Kill My Lavender? on Gardenista.
Before Exterior
Above: The uninspired street entrance to the home of landscape architect Alexandra Tasker Marx.
After Exterior
Above: Tasker Marx completely overhauled the space surrounding her home, adding a stuccoed perimeter wall to divide the home from the street. For her design, Tasker Marx won the 2013 Gardenista Considered Design Award for the best urban garden. Read the details of her project in Best Urban Garden Winner: Alexandra Tasker Marx Landscape Architects.