French company Meljac was founded by Andre Bousquet, an engineer by trade who noticed that electrical equipment was lacking in the aesthetics department. His solution? A line of sockets, switches, and other fittings featuring refined finishes and quality craftsmanship. Now his products have finally ventured across the pond: Meljac's first foray into the US market is focused on low-voltage lighting systems–not meant for replacing a switch or two, but intended for a full lighting system upgrade. The cost is comparable to Lutron or Creston low-voltage hardware but with finishes that no other line offers.
Meljac hardware is available to the trade in the US through LVL.
Above: Meljac's designs are inspired by industrial 1930s France; notice the drop-shaped toggle switch.
Above: Meljac hardware is made in France of high-quality brass. Switches are available in 16 finishes and eight styles, including the Round Plate 2 Two-Way Switch, shown here in brushed nickel. Contact LVL for pricing and ordering information.
Above: The Eclipse Collection Plate 1 Two-Way Switch, shown in rifle gun slate.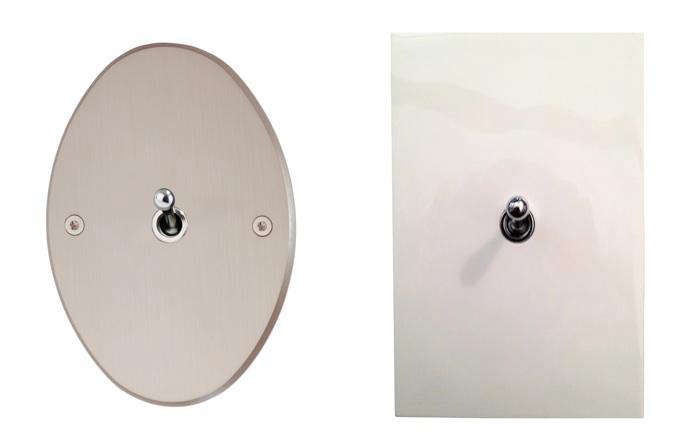 Above L: The Oval 1 Two-Way Switch in brushed nickel. Above R: The Limoges Collection Porcelain Plate 1 Switch in white porcelain with a chrome toggle.
Above: Meljac offers a range of controls for lighting as well as temperature and sound. Here, the simple Plate 1 Dimmer Switch (a European model).
Above: Reminiscent of nautical hardware, the Round Plate 1 Ground Socket has a water-resistant cover. UL-approved for US line voltage, Meljec sockets will fit in a US outlet box.
Above: The Plate 1 Socket with Cover is made of thick brass. Shown in a blasted nickel finish, the plate is also available in a screwless option for an even cleaner look.
Above: Meljac's first products were switches and sockets, but its range soon expanded to other tools such as thermostats and doorbells. We like the Aluminum Macaroon Doorbell, shown here. For more, go to Meljac.
Not upgrading your electrical system anytime soon? Consider replacing your Switch Plate Covers for a small change with a big impact.
N.B.: This post is an update; the original story ran on June 6, 2013, as part of our Travels with an Editor: Paris issue.
(Visited 114 times, 1 visits today)