A while back we bookmarked Brooklyn artist Wayne Pate's home office, featured on Design Sponge (also see Sneak Peek: Best of Offices for more inspiration); here are some ideas for creating a similar look.
Above: Wayne Pate's Brooklyn workspace.
Above: The Vika Amon/Vika Lerberg 59-inch-wide work table features steel legs with a particleboard top; $59.99 at Ikea.
Above: White powder-coated metal Tolix Chair; currently on sale at Pottery Barn for $199 (down from $250).
Above: The Classic Clock by the Howard Miller company (founded by the son of Herman) was inspired by the mid-century industrial clocks that George Nelson designed for the company in the 1950s. The clock is framed in spun nickel with a glass cover and features a simple, bold san-serif typeface that can be easily read from a distance. Runs on one AA battery; the Classic Clock is $55 at DWR.
Above: Hector Bone China Table Light Original BTC; $225 at Horne.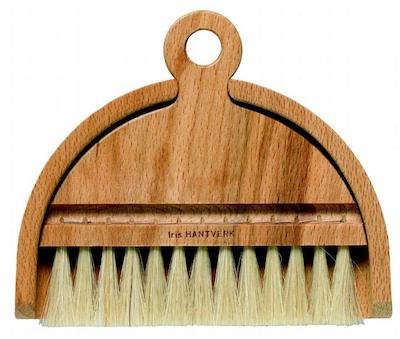 Above: Beechwood and horsehair Table Brush from Iris Hantverk; $50 at Design WIthin Reach.
Above: Westcott 24-inch Stainless Steel Ruler with hole for wall hanging; $8.20 at Amazon.
Above: Brass and Steel Scissors, handmade for generations by a family in India; 6-inch size is $18 and the 9-inch size is $21 at Spartan in Austin, Texas.
Above: Wayne Pate Toparie silkscreen; 18 by 24 inches; $55 from Good Shape Design.
Above: Powder-coated steel Knodd bin with lid; 17.25 inches tall, $24.99 at Ikea.