A new restaurant in LA's Silver Lake area features an industrial-meets-country vibe, designed by a purveyor of California cool.
Claire Stansfield, an actress and fashion designer (she is the co-founder of the T-shirt brand C&C California), now puts her efforts toward interior design; a seamless transition, given her love for "moving things around." She first tackled two home renovations before moving on to her most recent project: Hyperion Public, a restaurant co-owned by three friends (including her husband). Although it was her first restaurant renovation, Stansfield dove right in, stripping the interiors and starting from scratch. She repurposed many of the elements, building the bar and other pieces from reclaimed wood and completing the look with Ikea, Etsy, and vintage finds.
Here are some ideas for creating a similar look at home:
Photos by Stacey Lindsay for Remodelista.
Above: A large industrial dining table anchors the room and offers a place for communal seating. Shane Brown of Big Daddy's Antiques sourced the table, wicker pendant lamps, and vintage Singer stools for Stansfield.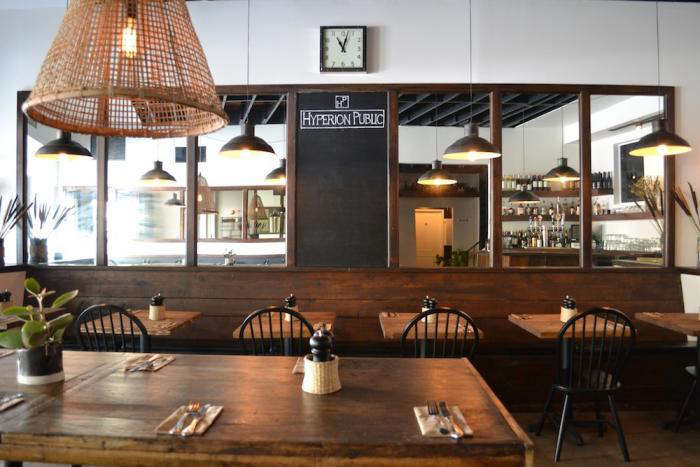 Above: The benches are made from reclaimed wood and feature custom leather cushions.
Above: Tracy Wilkinson's ceramic pieces are incorporated throughout the space. The hanging planter comes in a variety of colors; starting at $65.
Above: The vintage wire shelf is from Big Daddy's Antiques, Tracy Wilkinson vase with wicker strap, and a vintage metal sign (find similar pieces on Etsy).
Above: Heath Ceramics house numbers mark the entrance; one of Stansfield's favorite details in finishing the space.
Above: Neutra House Numbers 2 (in Mid-Century White) and 5 (in Museum Black); $38 from Heath Ceramics.
Above: When she started the project, Stansfield's mission was to find dining chairs that added "something a little more old fashioned" to the space. After looking in some of her favorite sources, she opted for a well-priced Windsor-style chair from Ikea, currently only available in stores. For a similar online option, consider the simple Salt Chair in black; $98 from Design Within Reach.
Above: While Stansfield's vintage wicker pendants lights were sourced from Big Daddy's, the Bamboo Cloche Light (L) from Koskela and the Leran Pendant Lamp (R) from Ikea both have a similar look; AU $209 and $26.99.
Above: The Franklin Wall Sconce in antique black (shown here in matte bronze); $69 from Schoolhouse Electric.
Above: For similar vintage seating, consider these Cast Iron Singer Stools from Original House UK; £360.
Above: To keep the salt and pepper shakers from falling off the table, Stansfield opted to remove the lid and fit them into the smallest of these seagrass baskets; Ljusnan Box with Lid, $5.99 for set of three from Ikea.
N.B. Looking for places to explore in Los Angeles? See our City Guides for more than 75 noteworthy stores, restaurants, and designer haunts.
(Visited 156 times, 1 visits today)