Charleston, South Carolina-based Fuzzco is a branding agency founded by Helen Rice and Josh Nissenboim. We've been following it since we spotted (and admired) Rice and Nissenboim's house in Dwell several years ago.
We were especially intrigued when we came across Fuzzco's offices, which were designed in collaboration with Thompson Young Design. "We are a branding agency, so naturally we have strong opinions about how our brand extends into our space," Rice says. "The way we work, the company we keep, the working purpose of the space, and the objects we covet all informed the choices we made in our space. It's a functional sculpture of rich textures in stark arrangements." Recreate the look in your own workspace with the following elements.
N.B.: See the Fuzzco office kitchen in our companion post, Steal This Look: Fuzzco Kitchen in Charleston.
Above: Fuzzco headquarters, located in a small stuccoed building on Spring Street, has served as laundromat, church, candy store, and hat shop.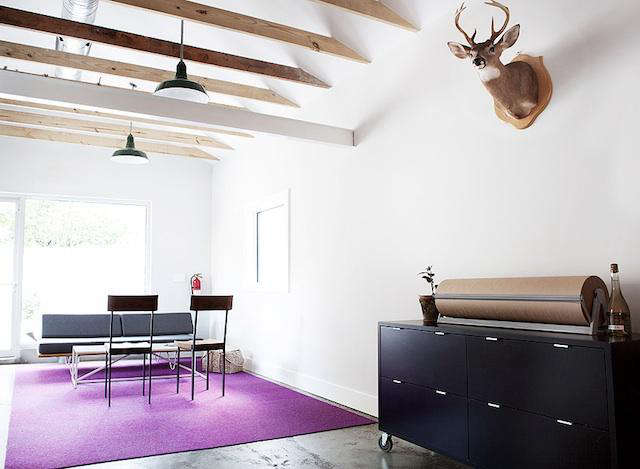 Above: A waiting area features an unexpected dash of purple.
Above: The wood wall was salvaged from an industrial building in Kentucky by woodworker Michael James Moran. Note the arrows whimsically positioned on the concrete floor.
Above: A detail shot of an arrow.
Above: Spruce wood sourced from contractor Chip Adams and yellow cage lights along the wall by Peyton Avrett.
Above: "We tried to keep and reuse a lot of the building's original materials," Rice says. The black porcelain door knob is reused from a renovation at 141 Spring Street in Charleston. For something similar, consider the Black Porcelain Door Knob; $35 at Rejuvenation.
Above: A collection of wood animals marches across a steel beam.
Lighting
Above: The Union 6-Inch Fixture (shown here in polished nickel) is $139, and the hand-blown glass OP Shade is $155, both from Schoolhouse Electric.
Above: The Franklin Wall Sconce (shown here in matte bronze) is $79, and the A19 Silver Bowl Light Bulb is $7, both from Schoolhouse Electric.
Above: Safely Caged yellow cage light cover; $1.00 for a pack of 3 from American Science & Surplus.
Above: The porcelain enamel Factory Light No. 5 Rod in black enamel is $279 from Schoolhouse Electric.
Office Furniture
Above: The Modernica Case Study Daybed has a wood frame and steel legs; $1,895 from Hive Modern.
Above: Blu Dot Strut Coffee Table; $399 from Blu Dot.
Above: Copenhagen Two-Drawer Lateral File Credenza with wheels; $1,099 from Room & Board.
Above: The Blu Dot Last Newspaper Rug is made of cotton-wrapped recycled newsprint; $329 from Blu Dot.
Above: Eames Molded Plastic Chairs with Wire Base by Herman Miller; $319 from Room & Board.
Accessories
Above: Fredericks and Mae Hand Made Arrows; $95 from Fredericks and Mae. Photograph from Color by Numbers.
Above: Wooden African Animal Set; $31 from Three Leaves Toys on Etsy.
Above: Find a Mounted Deer Head on eBay (alternatives made of cardboard or enamel are available from Etsy).
Above: A 36-inch wide Butcher Paper Roll is $44.59 and the Horizontal Paper Cutter in gray is $66.22, both from Amazon.
Redesigning an office space? See more inspirational images of Offices in our Gallery of rooms and spaces. On Gardenista, have a look at Evernote's Offices, Starburst Garden Wall Included.
N.B.: This post is an update; the original story ran on January 3, 2012 as part of our issue called A Clean Slate.
(Visited 95 times, 1 visits today)