Fernlund + Logan, a New York City firm that counts designer Ted Muehling among its clients, creates a thoroughly mod interior within a traditional Manhattan townhouse, mixing classics (a Le Corbusier LC4 chaise) with future classics (Jasper Morrison Glo-Ball lights and a Marcel Wanders New Antiques table). Candelabras and a crucifix over the mantle add an edgy note. Photos by Verne.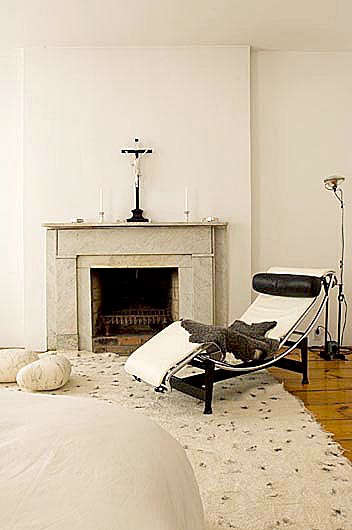 Below: Recreate the look with the Le Corbusier LC4 Chaise Longue in cowhide; $3,410 at Design Within Reach.
Below L: Felted Wool Stones, $298 for small, $495 for medium, and $595 for large at Viva Terra. Below R: Gray Ludde Sheepskin, similar to the one draped on the Le Corbusier chaise; $39.99 at Ikea.
Below: Marcel Wanders New Antiques table for Cappellini; $2,529 at Unica Home.
Above: Ted Muehling's white biscuit porcelain Vesuvius candelsticks for Nymphenburg are available in two sizes.
Below: The Moroccan Zig-Zag Rug, handknotted in ivory and chocolate wool, starts at $1,825 for the 9-by-12-foot size at Williams-Sonoma Home.
Below: Low Pad Chair by Jasper Morrison for Cappellini; $1,492 at Unica Home.
Below L: Designed in 1962 by brothers Achille Castiglione and Pier Giacomo Castiglione, the Toio Floor Lamp was inspired by a car headlamp; $1,212 at Design Within Reach. Below R: Jasper Morrison's large Glo-Ball Basic 2 Table Lamp by Flos is $872 at Lumens; Glo-Ball Basic 1 Table Lamp
, a smaller version, is $596 at Lumens.
Below: The formidable (and formidably priced) Dorian Table by Dominique Matthieu features curvy lacquered legs and a heavy glass top; $10,500 at Conran USA; available in black or red.
Below: Beech Black Enamel Bentwood Chairs; $79 each at Kurt Peterson.
You need to login or register to view and manage your bookmarks.