As Downton Abbey devotees, we've been finding ourselves more drawn to the servants' quarters than the grand upstairs spaces; in particular, the kitchen, with its rows of gleaming copper pots and rough-hewn staff dining table. Re-create the look with the following elements.
Above: A kitchen from the same period; image via Audley End House. For a similar worktable, try Farmhouse Dining Tables, which imports farm tables made in England using antique pine timbers.
Above: The row of butler's bells at Downton Abbey.
Above: Williams-Sonoma's new line of washed linens is made in Italy by a family-owned company. Prices start at $49.95 for a set of four Washed Linen Napkins.
Above: In production since the 1860s: earthenware mixing bowls from British pottery Mason Cash; a set of seven Mason Cash Pudding Bowls in graduated sizes is $79.95 at Williams-Sonoma.
Above: Daisy would get some use out of these Porcelain Measuring Spoons; £5 at Labour and Wait.
Above: A baking essential: Wooden Scoop Set, made from natural beech; £19.50 at Cox & Cox in the UK.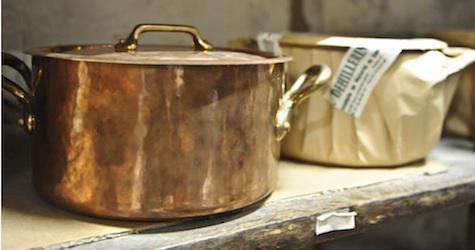 Above: Mauviel copper pots are made in Normandy, France, and feature riveted bronze handles; they're pricey but last forever (your descendants will thank you). Prices start at $125 for a Mauviel Copper Butter Warmer at Williams-Sonoma.
Above: Milton Brook Mortar & Pestle; $25 at Cookware.
Above: Worth hauling back from your next trip to London: the Labour & Wait Bread Bin (exclusively available from Labour & Wait) in a red-oxide-brown shade dating from the 1920s with crisp white Gill Sans lettering. The bin has air holes to allow the bread to breathe; £58.
Above: A key ingredient in the properly outfitted retro kitchen: electricals. We like the solid brass Push Button One Gang Coverplate ($18) paired with the Heavy-Duty Three-Way Switch ($18) at Schoolhouse Electric & Supply.
Above: Willow & Stone in the UK carries the Brass Butler Bell in solid aged brass with an oak back plate; £75.
Above: Lots of dusting going on upstairs; similar to the one pictured is the Unisan Ostrich Feather Duster with wood handle for $40.99 at Sears.
Above: The 3-Gallon Galvanized Steel Mop Pail with Roller from US company Behrens is $28.03 at Amazon.
Above: Unisan Deck Mop with wooden handle; $120 at Sears which includes six mop heads. Another option is the Genuine Joe Wet Mop, made from natural cotton with a wood handle, $19.74 at Amazon.
You need to login or register to view and manage your bookmarks.