A few years ago Danish chef and author René Redzepi was just beginning to gain ground for his experimental restaurant, Noma, in the Christianshaven neighborhood of Copenhagen. Today Redzepi is a household name; his cookbooks are on the shelves of most serious kitchen libraries, his restaurant is internationally known, and his Instagram account is challenging the average brunch-goer's feed.
The star chef enlisted Garde Hvalsøe, three cabinetmakers, and an architect working with Dinesen wood, to design and build out a custom family kitchen in his house in Christianshaven. A couple of years ago, we profiled the humble dining room in Redzepi's former flat and took note of a few things he kept during the move (Noma ceramics, an antique bench, dining chairs). Here is a look at the key elements of the chef's latest home kitchen.
Above: Glassware and Noma ceramics are seen in the open storage kitchen island.
Above: Redzepi requested a long kitchen workspace to span the length of the room.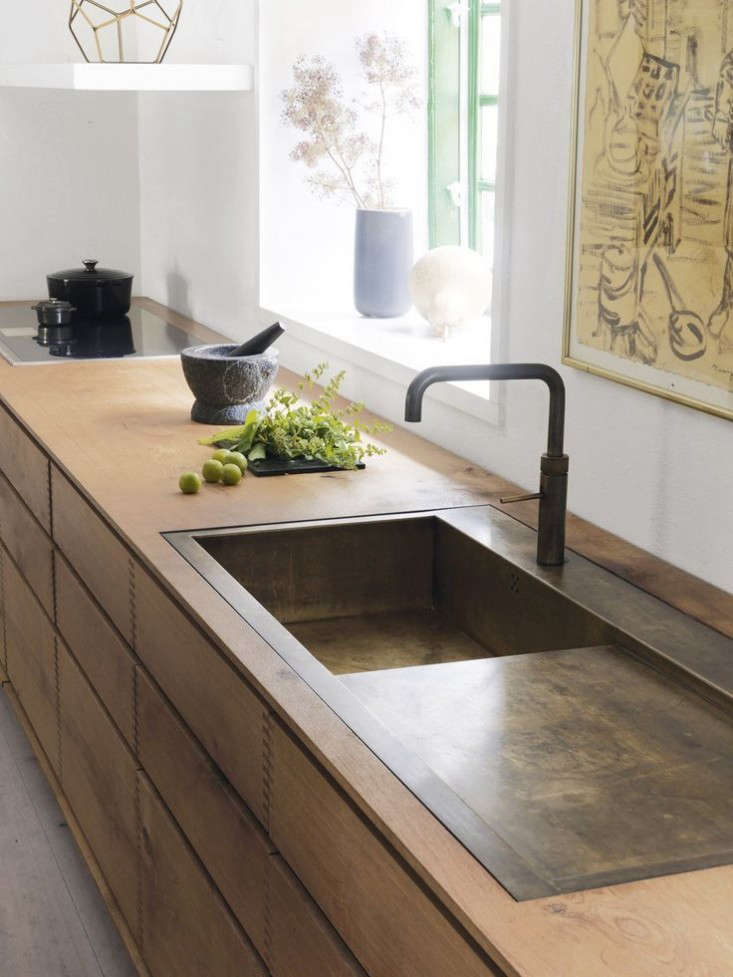 Above: Weathered brass fixtures blend quietly with oak countertops.
Above: Details of the cabinetmakers' work. A custom extractor range hood was built by Garde Hvalsøe.
Above: The kitchen opens out onto a light-filled dining area.
Kitchen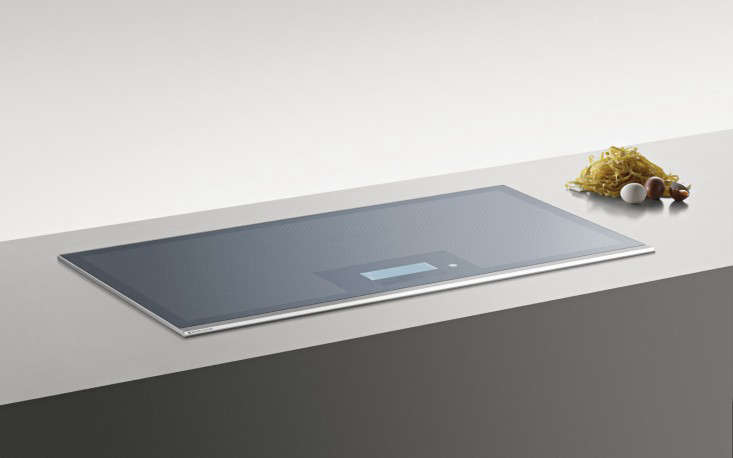 Above: The Induction Zone from Grand Cuisine by Electrolux Professional is an induction cooktop with a glass surface. Contact Grand Cuisine for pricing and availability.
Above: The Combination Oven accounts for cooking in dry and wet heat with the option of using a steam generator. Contact Grand Cuisine for pricing and availability.
Above: The Waterstone Fulton Suite Prep Faucet in blackened nickel is $1,116 at eFaucets. The faucet in Redzepi's kitchen is a custom darkened brass Fushion Square Faucet from Quooker, which is available to purchase in polished or brushed chrome.
Above: A similar sink to the custom one in Redzepi's kitchen is the Burnished Brass Sink from Officine Gullo in Florence, Italy. It has a brass edge and a drainer; $5,206.81 at Officine Gullo.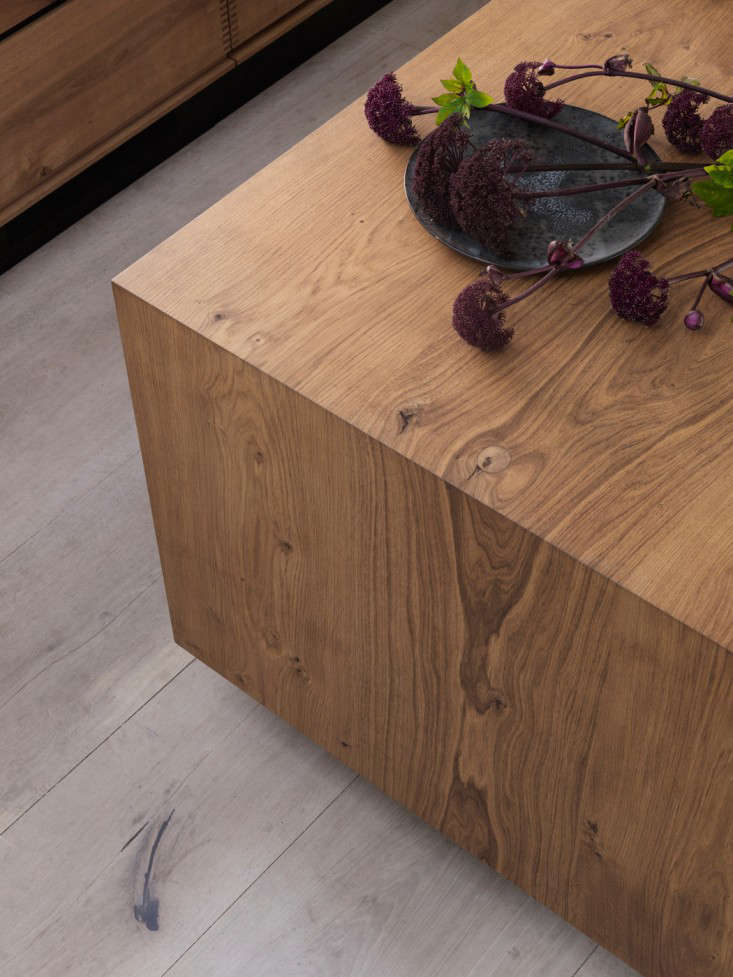 Above: The kitchen is built almost entirely of Garde Hvalsøe's Dinesen HeartOak wood. The long floorboards and countertops are created from a single plank for continuous grain patterns. Contact Dinesen for pricing and information.
Dining
Above: Black Uneven Ihada Pendant Lights are made from a special casting technique of Kobi brass. Contact Futagami for pricing and availability. For more on Futagami lighting, see our post Accessories: Brass Fixtures by Ohji Masanori.
Above: BDDW's Walnut Slab Dining Table makes use of a live-edge slab of wood. Contact BDDW for pricing and availability. For more ideas, see our post 12 Favorites: Live-Edge Tables in the Spirit of George Nakashima.
Above: A similar chair with a paper cord seat is Hans Wegner's Wishbone Chair with a black lacquered frame; $599 at Design Within Reach.
Above: Source an antique storage bench similar to this 19th-century Swedish Bench from 1st Dibs; contact Dos Gallos for pricing information. For more ideas, see our post 10 Easy Pieces: Modern Wooden Benches with Backs.
Accessories
Above: Sarah Kersten's handmade Mini Fermentation Crocks in black glaze are $180 each at March.
Above: Elektra MicroCasa Lever Espresso Machine; $1,349 at Kitchen Universe. For more, see our post Appliances: Elektra Micro Casa Lever Espresso Machine.
Above: The Staub Cast-Iron Round Cocotte is Redzepi's stovetop pot of choice; $300 for the 5.5-quart size at Williams-Sonoma.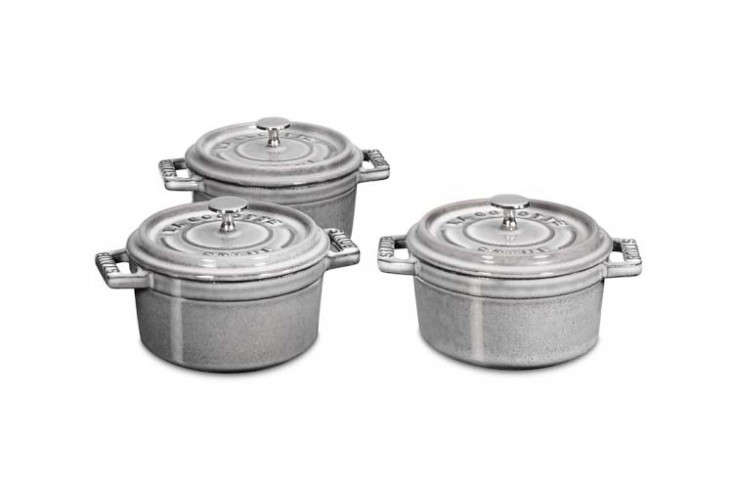 Above: The Staub Cast-Iron Mini Round Cocotte Set in Granite is $185 at Williams-Sonoma.
Above: Magnus Lundström's Black Mortar & Pestle is $120 for the large size at Food52.
For more on Noma and Scandinavian design, see our posts:
N.B.: This post is an update; the original story ran on November 3, 2015, as part of our issue called The Holiday House.
(Visited 1,598 times, 11 visits today)