Somehow this slipped by us: our favorite all-time London/NY store Ochre has launched an online site. Feeling glutted from holiday indulgences? Consider these pure and simple staples to start the New Year at ochrestore.com, which "focuses on products made under fair trade as well as green principles. We love working with Aid to Artisans, a nonprofit organization that helps artisans in developing countries bring their products to the US and Europe. We have also established a collective of textile, ceramics, wood, and glass designers that makes things exclusively for us."
Below: Wine decanters from L'Atelier du Vin; $165:
Below: Kenyan spoon set; $65: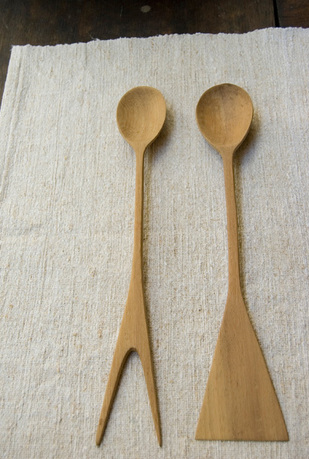 Below: North American white oak salad bowls by George Peterson of Circle Factory; $185 to $670:

Below: Hand-dyed velvet cushion backed in stone-colored linen; $130. Other colors available.

Below: Handmade satin-finish steel cutlery set with black Bakelite handles; $98 a set:
You need to login or register to view and manage your bookmarks.