Whenever we're in need of a jolt of online interiors inspiration, we head to Lost & Found, Jamie Rosenthal's quirky, always fresh assemblage of global interiors finds. But until last week, I hadn't actually visited her brick-and-mortar outpost, located in an airy storefront in Santa Monica. Join us for a tour:
Photography by Bethany Nauert for Remodelista.
Above: Jamie subscribes to the notion that any one thing can function well anywhere in the home—a tablecloth makes a great bedspread, and vise versa. Still, for practical purposes, the store is organized roughly by room: In the "tabletop" section shown here hangs "Pause"—an oil-on-canvas painting by Malibu painter Judith Guillemot, beneath a Misha Gold UFO Light from Paris Au Mois D'Aout; $595.
Above: A pair of Lost & Found Bar Chairs in silver ($375 each) flanked by pure linen Baja Bags, made in France by Linge Particulier; $65.
Above: In front, MQuan Studio ceramicist Michelle Quan's Iron Stripe Votive Set ($95); to the left, an Oursin Saltbowl by Best Before ($92) is a hand-cut rock salt bowl ideal for holding seasoning salt. The Tourni Candle Holder ($98) behind it is also cut from rock salt, and the flat-bottomed, live-edge Olive Wood Oval Bowl in the back is made in Tunisia; $185.
Above: The Brazilian Soapstone Grill ($90 to $130) and Brazilian Soapstone Pot ($120 to $165) go straight from the oven, stovetop, or grill to the table. Just behind is a trio of Honoré Walnut Planche boards, handmade in France ($65 to $98).
Above: Jamie has partnered with Nelson Sepulveda on several collaborative collections, including a line of Tunisian white sandstone pottery for Cinq Etoiles. The Pitcher is $95, the Bowl with Olive Wood Lid is $125, and serving Bowls are $125 to $150, depending on size.
Above: On MQuan's Strand Disc Mobile, seven strands of knotted porcelain discs hang from a piece of driftwood; $825. The Arcade Luna A Vase ($1,498) and Arcade Luna C Vase ($598) are Paola Navone designs, made in Italy.
Above: MQuan ceramics are wheel-thrown and hand-painted in NYC. Shown here, the Large Moon Planter ($375), Large Indigo Vase ($575), and Large Eclipse Rock ($350) sit next to a Lost & Found Bar Chair in silver ($375). Beneath the marble table is a Peterman Cherry Wood Bowl made from fallen trees; $95 for an 11-inch diameter bowl.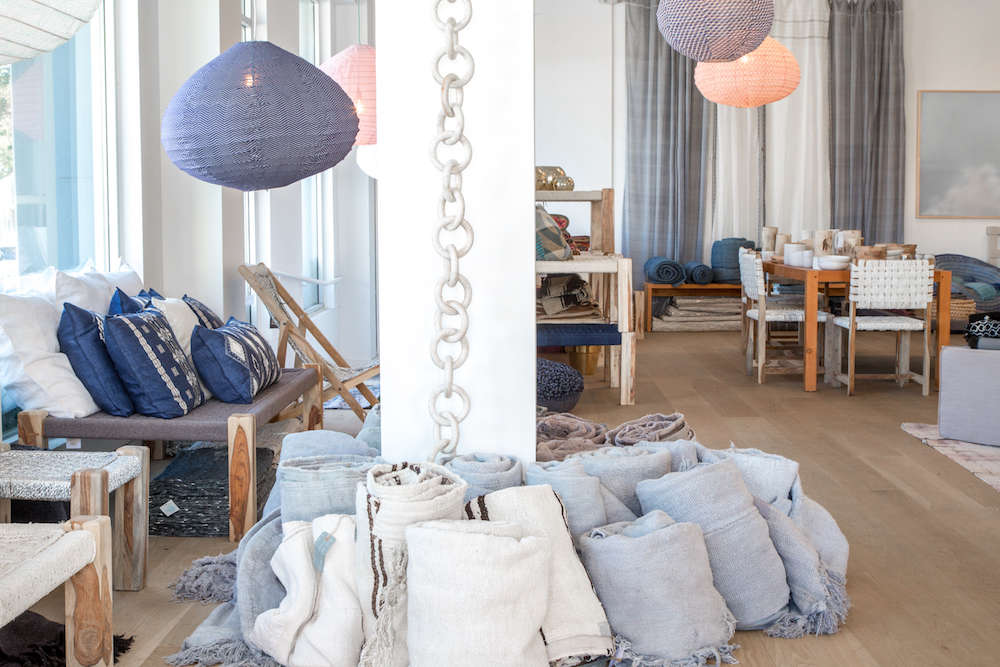 Above: A pile of Private 02 04 Rugs and MQuan's 28-link stoneware Chain ($1,495) beneath a Blue Lejos UFO Light from Paris au Mois D'Aout; $325.
Above: Private 02 04 Rugs are handmade in Anatolia, Turkey, washed in the sea and dried on the beach; starting at $1,450. On the Lost & Found Bench ($598) sit three Portico embroidered linen pillows from Coral & Tusk ($240 to $450). Below are Tutti Fruiti Baskets ($125 to $295) made of 100 percent recycled paper.
Above: A Linge Particulier linen Duvet Cover in shirt stripe, made in France, is $475 for the queen size. A Suzusan Shibori Throw ($575) is strewn across the bed. Overhead is a Josephine Denim UFO Light from Paris au Mois D'Aout; $575.
Above: A living room vignette: Linge Particulier Pillow in Nude and Gray (starting at $65 each) and a pair of Lucky Fish Moon Pillows; $165 for the 24-inch square. At left, the Lost & Found Wide Garden Chair is available in black (shown) and indigo; $350. (It also comes in a standard width, called the Lost & Found Garden Chair; $295).
Above: Beneath the Lost & Found Bench in gray ($598) rests a series of Rain Forest Baskets ($38 to $175), handmade from renewable Colombian rain forest vines.
Above: Fedora Design's silk rugs are chain-stitched by hand; they're custom-made and $98 per square foot—inquire at Lost & Found for more information. (In the meantime, browse the Blue Rug, Tobacco Rug, and coordinating Blue Floral Silk Pillow and Tan Silk Pillow.)
Above: At left, Seagrass Baskets by Cinq Etoiles are made in Tunisia; $175- to $275 depending on size. At right: Jamie discovered this furniture line several years ago while in Paris, and ended up collaborating closely with the company and launching Lost & Found exclusives—including the dining chair shown here (Jamie's own design). (See A Silver Lining: Glamorous Eco-Chic Outdoor Furniture for more.) "Some of the pieces existed in a more traditional Indian style," said Jamie," but I redesigned and recolored them for Lost & Found." Each piece is made in India of teak and recycled materials. The Lost & Found Dining Chair is available in five colors, including bleached jute, indigo, and the silver shown here; $350 each.
Above: From top to bottom, from Linge Particulier: a Royal Blue Napkin ($18), a White/Navy Window Pane Duvet ($535 for king), and a Gray Chambray Pillow ($75 to $95, depending on size).
Above: Lost & Found Home is located at 2000 Main St. in Santa Monica, California.
See all our posts on Lost & Found wares in:
(Visited 234 times, 3 visits today)