Another stop on my recent swing through Maine: Windsor Chairmakers, in Lincolnville, just down the road from Swans Island Blankets. Windsor Chairmakers quietly produces classic New England furniture, one piece at a time; the handcrafted wares are displayed throughout the rambling farmhouse in rustic room settings.
Above: Stains and paints used in the finishing process.
Above: The finely detailed Windsor Sackback Rocker starts at $1,116.
Above: Windsor Sackback Bench; $1,350.
Above: Windsor Chairmarkers Shaker Stools, based on an 1820 antique from Enfield, Connecticut, are available in five different heights, from 12 inches to 36 inches. Prices start at $198 for the 12-inch high model.
.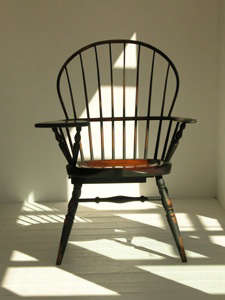 Above L: Windsor Sackback Chair with Writing Arm and Drawer; $1,395. Above R: Windsor Sackback Chair with Comb; $1,081.
Above: Raw wood boards waiting to be transformed into tables.
Above L: Unhemmed lengths of plaid cotton make fuss-free window window treatments. Above R: Shaker Rocker with cloth tape seat; $588.