Mark and Sally Bailey were early to the game with their "repair, reuse, and rethink" design philosophy (we've posted about their housewares emporium Baileys Home & Garden frequently over the years). The couple has written three books: Recycled Home, Simple Home, and Hand Made Home, and converted a series of farm buildings in the Hereford countryside of England into a destination compound for interiors enthusiasts in search of an honest utilitarian aesthetic. They're constantly innovating and updating their offerings; take a tour of the latest developments.
Photography by Rich Stapleton via Cereal Magazine.
Above: In a converted farm building, the Baileys used recycled and salvaged furniture for display; while every inch of available space is utilized, the clutter is contained through organization.
Above: Wired-cube display shelving presents a grid of organization. Safco make a similar system for home use that's available via Amazon; the Wire Cube Shelving System (10 units) is $100, and in the UK, the Wire Cube Shelving System (4 units in black) is £38.34.
Above: The innovative displays adhere to the Baileys' design philosophy of "repair, reuse, and rethink." 
Above: The wood from the vintage display ladders contrasts with the metal shelving.
Above: Industrial wire box shelving provides a display place for everything, no matter how small. An Industrial 9-Cube Shelf is available via RH for $249.
Above: Canvas Utility Trucks under the display table provide another type of storage system. 
Above: Oak Block Toothbrush Holders keep things in the bathroom organized.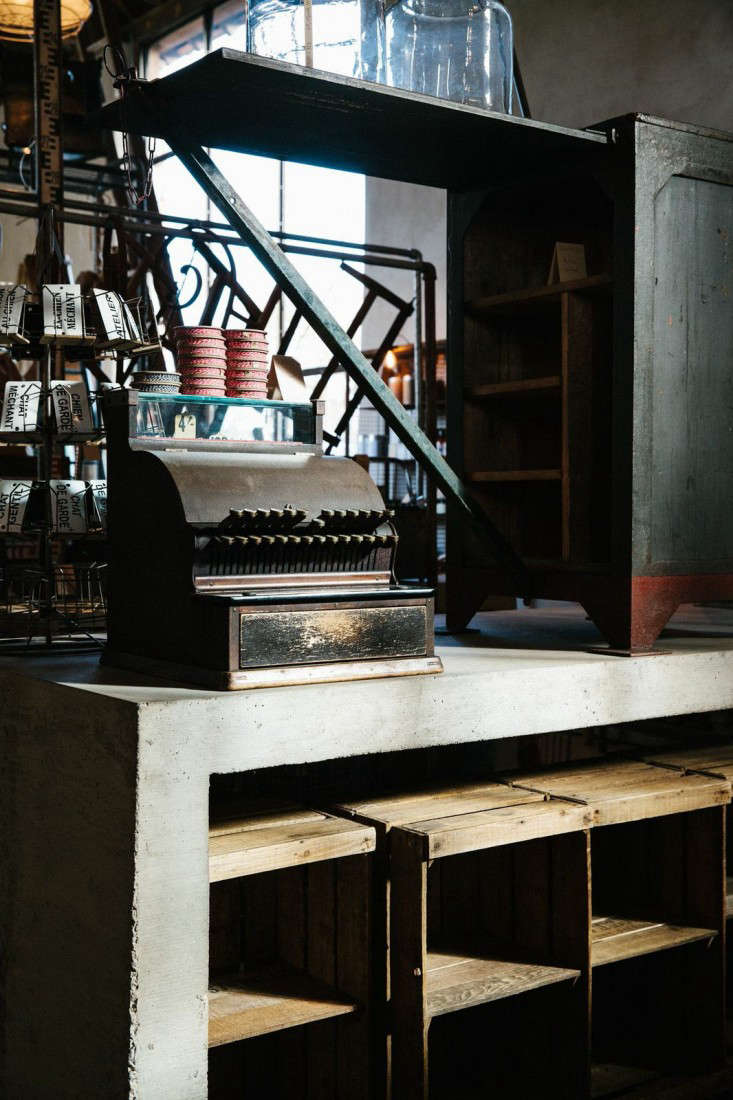 Above: Wood Apple Crates with dividers provide under-counter storage.
Above: The Baileys often create modular shelving systems with American Crates on Wheels, which are larger in scale than standard crates. Placing them on wheels means they're easily transportable.
Above: A simple hanging rail, constructed out of plumbing parts, becomes the background framework for assorted Creamware Jugs.
Above:Duralex Picardie Glass Tumblers (16 oz.) do a good job of organizing cutlery.
Above: The Tabernacle Tearoom, a building on the compound, offers respite from shopping.
Above: Unfinished wood shelving is contrasted with painted wood paneling. 
Above: Mark and Salley Bailey take a moment in the Tabernacle Tearoom.
If you like the look of the wire basket storage system, see 10 Wall-Mounted Wire Baskets as Storage for more. The all-purpose Duralex Picardie Glass Tumbler is a favorite standby in many kitchens. Find out why in Iconic Objects: Duralex Café Ware from Duralex.
On Gardenista, an indoor garden in Steal This Look: A Sunny Work Studio (Fiddle Leaf Included) is inspiring us all to get back to work.
Baileys Home and Garden is in Hereford, near Wales and about a 3 1/2 hour train journey from Central London.
You need to login or register to view and manage your bookmarks.