Sunday, April 6, Brownstoner and friends hold the first 2008 Brooklyn Fleamarket in Ft. Green, from 10 am to 5 pm, rain or shine, featuring a wide range of vendors; categories include vintage furniture and architectural salvage (Olde Good Things, Demolition Depot, and Reclaimed Home) as well as local furniture makers, craftspeople, and designers. Design*Sponge will be curating a section called Design*Sponge Collective, featuring artists such as Lena Corwin, Deadly Squire, Sian Keegan, and Wayne Pate. Go to Brooklyn Flea for the most up to date information.
Below: Prague Kolektiv, which specializes in midcentury and modern Czech design, is among the vendors.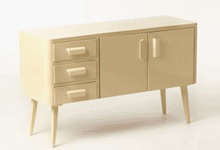 See more of our favorite Brooklyn design haunts in our City Guides.
(Visited 102 times, 1 visits today)