Shaker peg rails have been saving our summer sanity (and year-round sanity, for that matter) since we first wrote about them a decade ago. (You can read that original article right here.) Once we realized what they could do for keeping a room in order, there was no going back.
The original Shaker designs are timeless, though we love when modern makers offer their take on the design. For example, spotted recently:
The Sighting
The Source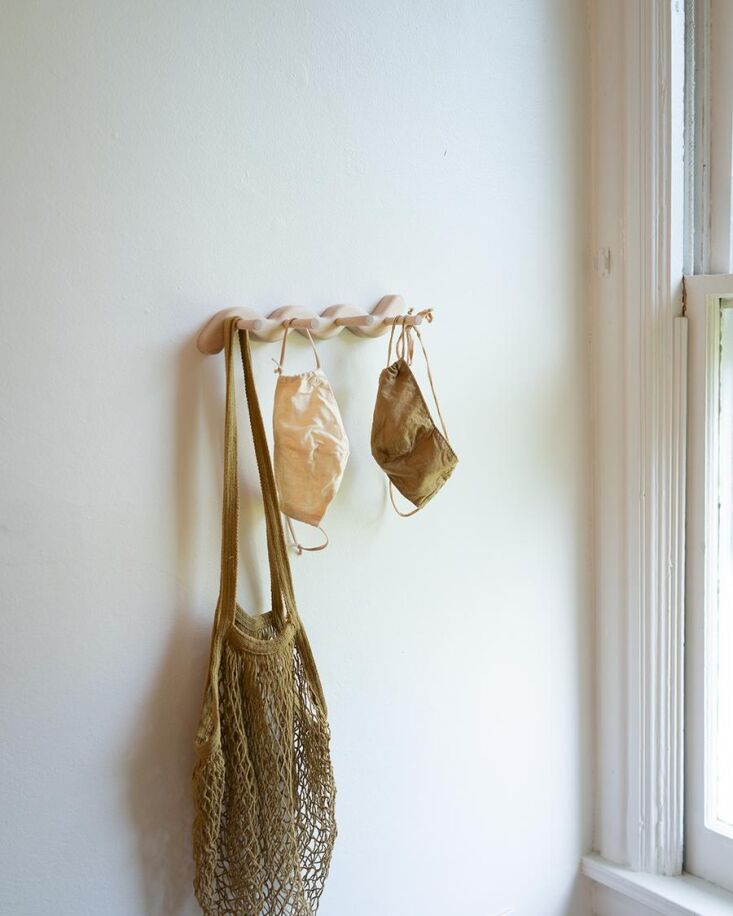 For more Remodelista Reconnaissance, see:
(Visited 4,355 times, 1 visits today)
Frequently asked questions
What is a shaker peg rail?
A shaker peg rail is a traditional method of organizing and hanging objects on a wall. It features wooden dowels, or pegs, protruding from a horizontal rail.
How can I use a shaker peg rail in my home?
A shaker peg rail can be used in various ways. It can serve as a coat rack in an entryway, a towel rack in a bathroom, or a display for kitchen utensils. The possibilities are endless!
Why is the use of odd numbers recommended for shaker peg rails?
Odd numbers are recommended for shaker peg rails because they create a more visually appealing and balanced arrangement. It adds asymmetry and avoids a monotonic pattern.
Where can I find shaker peg rails?
Shaker peg rails can be found in various home improvement stores, furniture stores, and online retailers. You can also consider making your own if you are feeling crafty!
What materials are shaker peg rails usually made of?
Shaker peg rails are typically made of wood. Oak, pine, and maple are common choices due to their durability and aesthetic appeal.
How do I install a shaker peg rail?
To install a shaker peg rail, start by measuring and marking the desired height and spacing on the wall. Use a spirit level to ensure proper alignment. Then, secure the rail to the wall using screws or nails. Make sure to use appropriate wall anchors if needed.
Can shaker peg rails be painted or stained?
Yes, shaker peg rails can be painted or stained to match your desired aesthetic. You can choose a color that complements your decor or go for a natural wood finish for a more rustic look.
Are shaker peg rails only suitable for traditional or rustic styles?
No, shaker peg rails can work well with various interior styles. They can add a touch of warmth and functionality to both traditional and modern spaces. It all depends on how you incorporate them into your design.
Can shaker peg rails support heavy items?
Shaker peg rails are sturdy and can support moderate weight. However, if you plan to hang heavy items such as heavy coats or pots and pans, it is advisable to use appropriate wall anchors and screws to ensure secure installation.
How do I clean and maintain a shaker peg rail?
Cleaning a shaker peg rail is relatively simple. Use a damp cloth or sponge to wipe away any dust or dirt. If the rail has a painted or stained finish, avoid using harsh chemicals or abrasive cleaners that may damage the surface.