Armadale's new local: Moby 3143 is a Melbourne restaurant from a pair of industry veterans (Steven Svenson, the former head chef of Pillar of Salt, and Christina Higgins, the former catering manager for London's Ottolenghi). Located in a three-level 1970s space, the interiors were overhauled by designers Kylie Dorotic and Alicia McKimm of We Are Huntly, who deployed a palette of dusty pink and inky blue. Join us for a tour.
Photography by Sharyn Cairns, courtesy of We Are Huntly.
Above: In the main dining room, a communal table is surrounded by intimate two- and four-seat settings.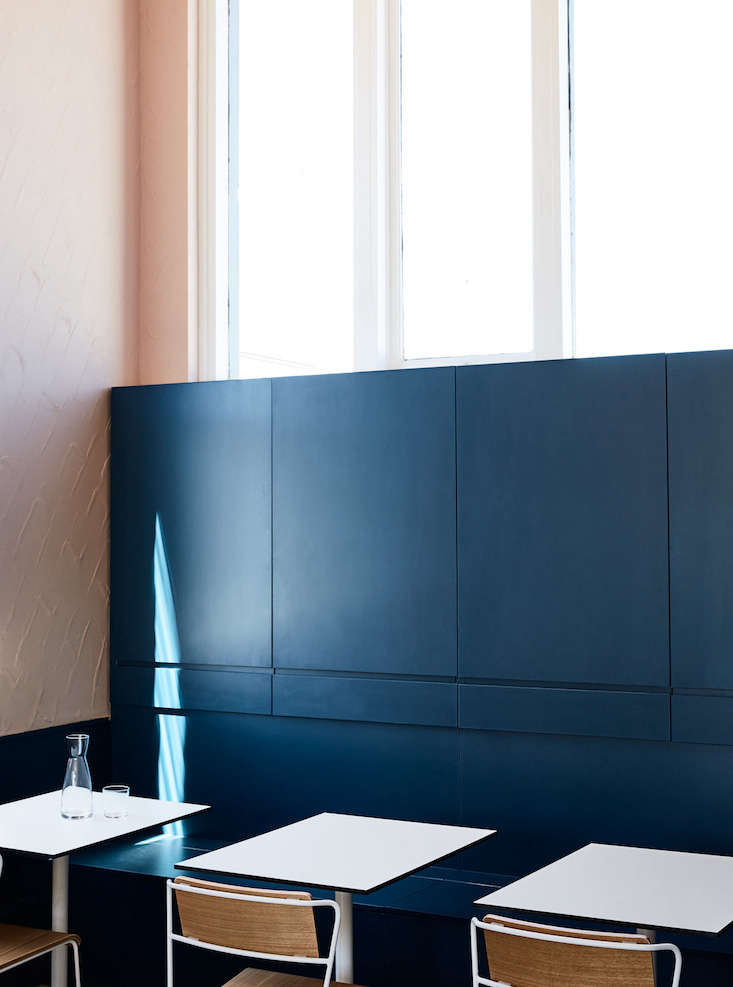 Above: Prototype made the simple indoor and outdoor tables.
Above: The dark teal walls are painted in Taubman's Blue Ink. The dusty pink accent walls are painted in a custom color in a fresco finish by Porter's Paints. 
Above: The designers wanted to ensure the food remained center stage. Dorotic and McKimm's response was to create a café that felt "established, approachable and local."
Above: Simple glassware and bags of Five Senses Coffee, a sustainably minded Australian roaster, line the open shelves.
Above: A marble sink punctuates the glossy deep blue tiles and dusty pink walls.
Above: An arched window opens to the streetscape. Dorotic said she and McKimm positioned the counter to engage passersby.
Above:  The cafe serves diners both inside and outside year-round.
Moby 3143 is located 1150 High St., Armdale, Victoria 3143, Australia.
Explore more of our recent Restaurant Visits, including:
You need to login or register to view and manage your bookmarks.