In Sacramento, Hock Farm restaurant is hoping to inch the state capital onto the culinary map. It's farm-to-fork dining without the usual rusticity, and its design celebrates California without being obvious. 
The Hock Farm design was led by Amy Aswell and KJ Singh of Beta Form Industries. Aswell, an interior designer, named the restaurant herself after the first large-scale agricultural settlement in Northern California: John Sutter's 1841 Hock Farm. The farm was Sutter's personal retreat and named for the Nisenan Hock tribe indigenous to the area. The Hock Farm name was a perfect fit for the restaurant, located across the street from the State Capital and wanting a vocabulary uniquely relevant to Sacramento.
Aswell wanted to be interpretive in designing a space with "farm" in its name. Noting that Sacramento is already called a "cow town," she said diners here want to embrace farm-to-table dining "without being aesthetically dominated by it." Aswell succeeded in sourcing as much as possible from the Sacramento area while creating a space that is definitively modern.
Photography by Kat Alves. 
Above: A neon art piece quotes Hock Farm settler John Sutter, who said of his experience: "I was everything, patriarch, priest, father, and judge." Diners with knowledge of Sacramento history will know the phrase, says Aswell, and it "says something about the ego of the early prominent white settlers." But she likes its ambiguity, saying "We chose not to simply glorify accomplishments but prompt discussions."
Above: Lining the tables are slim black Windsor Salt Chairs from Design Within Reach. 
Above: Many tables–including the "chef's table" above–are made of douglas fir from the Globe Mills building in Sacramento and fabricated by Steven Tiller of Reclamation Art + Furniture. Having undergone a fire, the wood has areas of veined charring.
Above: Thonet Era Round Armchairs in Turquoise.
Above: The upholstery is a gray tweed-inspired weave from wholesale upholstery distributor Arc|Com.
Above: The brick is not original, but the restaurant is housed in a characterless office building. Says Aswell, "Our goal for wanting to create an 'experience' in this instance trumped our typical interest in building authenticity. The space screamed out for texture." 
Above: Translucent porcelain Aspect Pendants with turquoise cording, fabricated by Schmitt Design in Sacramento.
Above: Simple silhouettes and a polished concrete floor complement a largely neutral color palette.
Above: A utilitarian strategy for hiding supplies in plain sight. 
Above: A selection of bourbons against white tile continues a subtle orange-and-white color theme.
Above: Aswell pored the library for drawings and photos of Hock Farm, and found one that could be enlarged into a wall graphic.
Above: A California-shaped table by J. Rusten Furniture Studio. Says Aswell, "We hope Jerry Brown visits soon and sits at this table!"
Above: When she needed a screen to narrow the opening to the kitchen, Aswell thought of Native American basket weaving applied to a modern material. 12M Design in Sacramento fabricated the partitions by hand.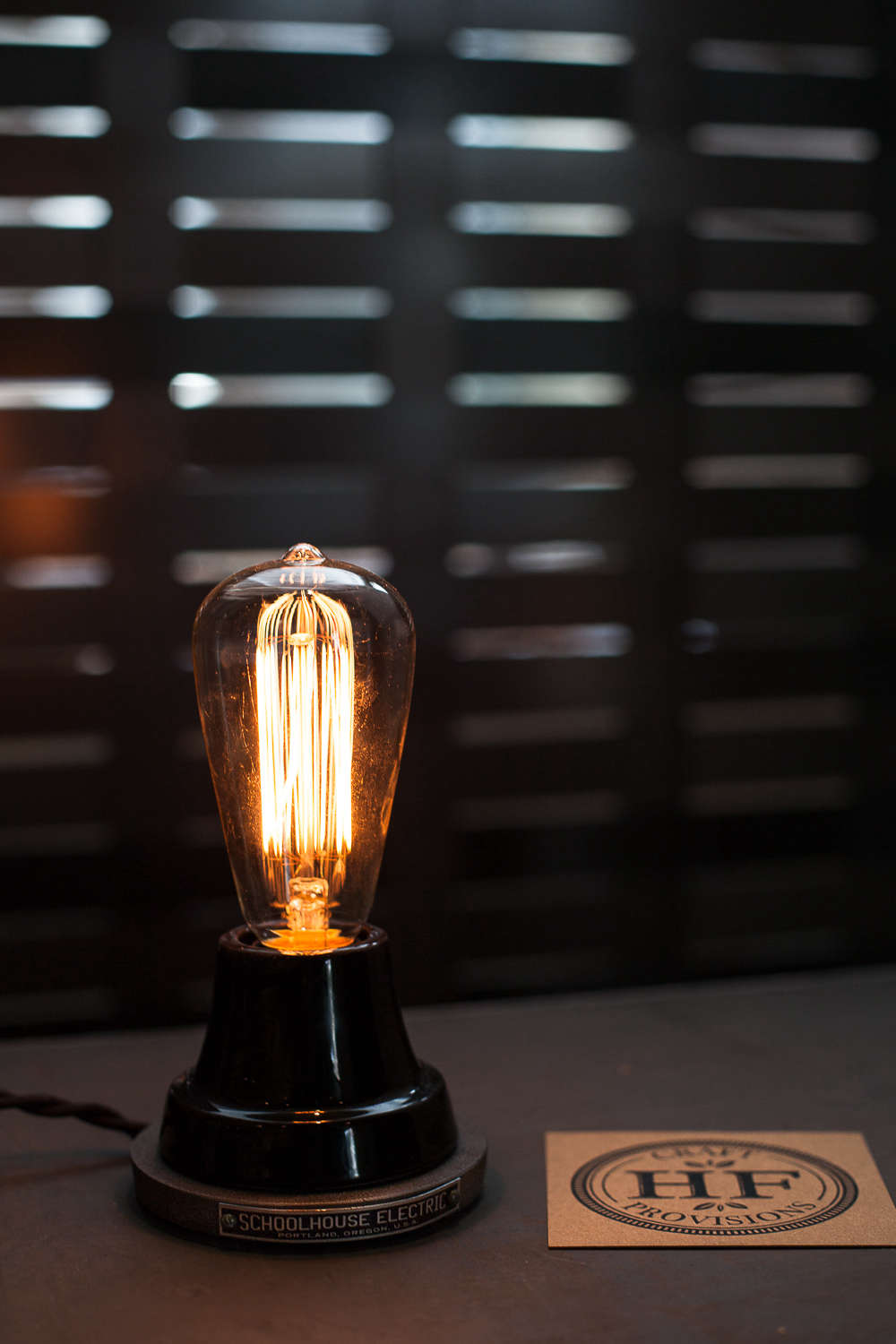 Above: On the entry table, Schoolhouse Electric's Ion Lamp in black porcelain.
Above: The exterior sign is made of the same reclaimed douglas fir and branded with the Hock Farm logo.
Looking for more? Be inspired by 83 images of Modern Restaurants in our gallery of rooms and spaces. 
(Visited 142 times, 1 visits today)