Brew enthusiasts Carl Setzer and Liu Fang started Great Leap Brewing with the intent of starting a Chinese craft beer revolution. That was four years ago and since then the couple's Great Leap Brewing has expanded into a second, larger location in Beijing and is now one of many microbreweries in the city. The difference between them and all the others? Locally sourced ingredients and indigenous Chinese herbs.
The brewery began in a small siheyuan, a Chinese historical home, in 2010. The new location, designed by New Architecture Office–the same firm responsible for Lost & Found's storefront–is a 530-square meter taproom and brewery, the largest onsite brewery in all of mainland China. Great Leap Brewing sources only locally grown ingredients and takes pride in their adventurous use of indigenous hops, Chinese rock candy, Sichuan peppercorns, Shandong date honey, Buddha oolong tea, and Danshan Gongfu black tea from the mountains of Fujian.
Above: "Proudly Chinese" is Great Leap's motto; the microbrewery's location is on Xin Zhong Jie in Beijing's urban Dong Cheng Qu neighborhood.
Above: New Architecture Office created a cross between a classic taproom and a contemporary industrial look, with a gilded logo, dark stained wood, and exposed raw brick and concrete.
Above: The restaurant features three different styles of seating: chairs and stools at the bar, long benches and tables, and wooden booths in the back.
Above: The floor is a combination of herringbone-patterned brick and wood.
Above: Two copper brew kettles sit between the bar and the fermentation room. Both areas feature white glazed subway tiles and stainless steel accents for a sterile and attractive brewing environment.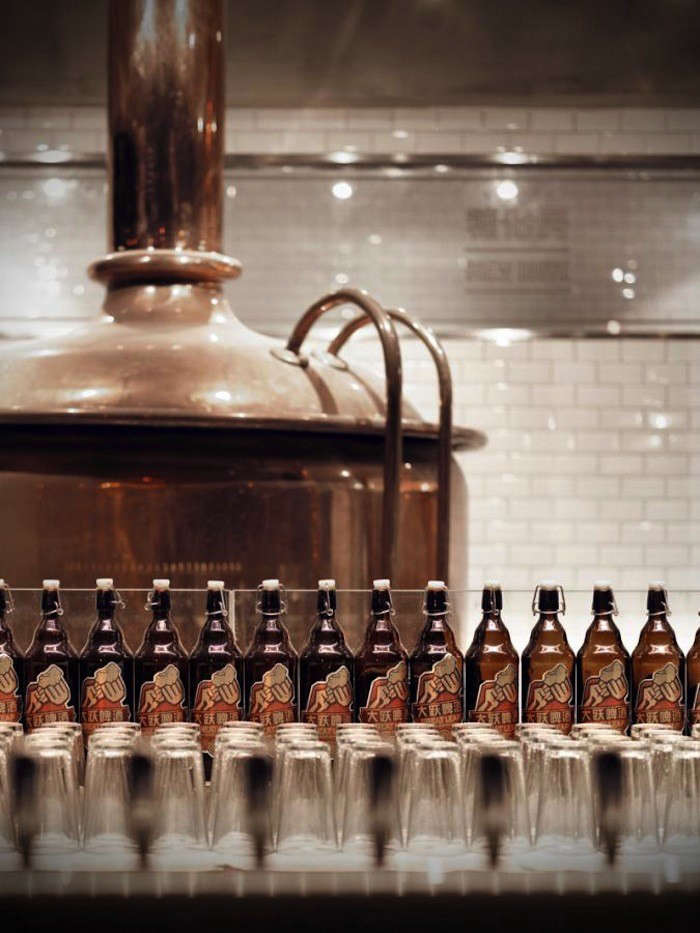 Above: Bottles of beer with the Great Leap Label stand behind rows of classic beer glasses. Great Leap has 12 beers on tap, and brews more than 40 different varieties throughout the year.
Above: Chalkboards are framed in the same stained wood seen throughout the restaurant.
Above: Bare light bulbs and metal pendant lamps make up the mix of industrial lighting.
Above: Wooden beams flank each booth in the back of the restaurant.
Above L: Industrial details, including wired glass windows. Above R: Curvaceous wooden booths.
Above: The Great Leap Brewing logo illuminates the concrete entrance of the pub.
Above: Great Leap's original location at No. 6 Doujiao Hutong.
Location of Great Leap Brewing Company new flagship on Xin Zhong Jie in Beijing's Dong Cheng Qu neighborhood:
For another beer hall that we love, see Steal This Look: The Standard Biergarten in NYC. And to source the right seating, see 10 Easy Pieces: Brew Pub Stools.
(Visited 122 times, 1 visits today)