Spotted on the shelves of Saltwater Oyster Depot in Inverness: Oyster Culture, written and photographed by West Marin local Gwendolyn Meyer and edited by Doreen Schmid.
The book is a charming look at the history of Tomales Bay and the art of oyster farming, with insights into each of the companies that farm along the water. Meyer, who has a culinary background that includes a stint at the prestigious Post Ranch Inn, offers explanations on how to prepare oysters with recipes on how to enjoy them. Oyster Culture is available online for $19.95 from Cameron and Company; or better still, pick one up at Saltwater.
Photography by Gwendolyn Meyer, except where noted.
Above: A look at West Marin through it's oyster culture. Photograph by Mimi Giboin for Remodelista.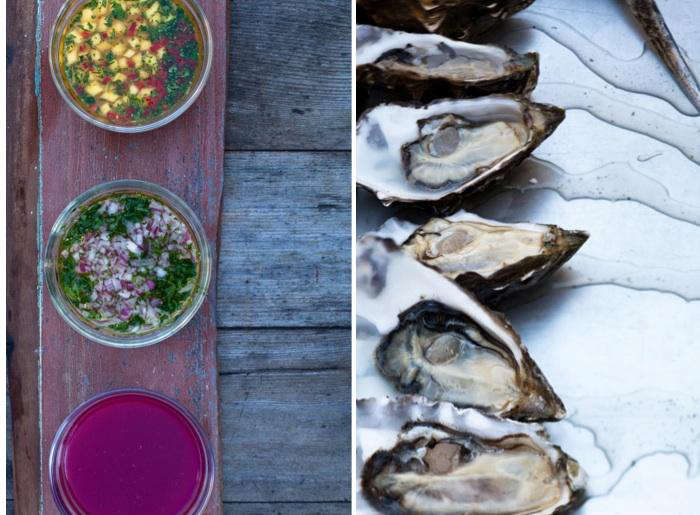 Above L: A selection of oyster accompaniments (our favorite is the Zesty Horseradish Sauce credited to The Oyster Girls, and featured in the book). Above R: A selection of local oysters.
Above: Bags of oyster seeds visible at low tide in Tomales Bay.
Zesty Horseradish Sauce, from The Oyster Girls
Use fresh-grated horseradish if you can find it in your produce store for this colorful, refreshing sauce with a spicy kick. Makes enough for two dozen oysters
• 1 tablespoon fresh horseradish root, peeled, rinsed, and grated (or 1 teaspoon store-bought horseradish)
• ¼ cup freshly juiced beet juice from washed and peeled beet
• 2 tablespoons freshly squeezed lemon juice
• ¼ cup seasoned rice vinegar
Mix beet and lemon juice with rice vinegar in a small bowl. Mix in horseradish. Keep chilled and airtight until ready to serve. Keeps for up to one week. Serve with oysters on the half shell.
You need to login or register to view and manage your bookmarks.