Even if you don't know the name Hilary Robertson, chances are you've admired her work. An in-demand creative director and interior stylist, she has been deftly "moving furniture around," since childhood. Raised in England and now based in Brooklyn, Hilary, aka Mrs. Robertson, has created memorable visuals for a dizzying list of clients, from Elle Decoration and Vogue Living to Crate & Barrel and Benjamin Moore; developed products for the late lamented Bloomist; and recently co-designed vegan cantine Belse NYC.
Hilary's look is that hard-to-achieve mix of minimalist and lived in, pale but alive with patinated surfaces and sculptural bits of nature. And she likes to have a hand from start to finish: along the way, she's conceived, art directed, and written five standout interiors books, including The Stuff of Life and  The Monochrome Home. Her latest, the just-published Nomad At Home, "dissects the desire to wander from the point of view of the design-led traveler." The featured houses belong to two main types of wanderers: those who have furnished their home bases with souvenirs, and transplants who fell in love with a far-away place—in Hilary's case, a former schoolhouse in Connecticut—and decided to stay put. Both use travel inspiration to inform how they live.
One of our favorite examples of the latter belongs to American interior designer September Moore and her South African husband, Colin Moore, who moved from Florida to France, and for years have been overhauling crumbling dwellings in the Languedoc. Hilary describes her friend September as "a dab hand at creating an elegant atmosphere with simple ingredients: her rooms, always in ancient French buildings, are the decorating equivalent of 'le mot juste.'"
Join us for a tour of Chez Moore with Hilary as our guide.
Featured photography by Anna Malmberg for Nomad at Home by Hilary Robertson (@hilaryrobertson), courtesy of Ryland Peters & Small.
She and Colin sold their former house by posting tantalizing photos of it on Instagram (@septembermooreprojects) and moved into the historic residence where Colin's chiropractic office had been located. "They then acquired a second fixer-upper on the corner of that same street," reports Hilary and currently live in both places—and have recently started renovating a house in Mallorca.
September and Colin have become such practiced hands at remodeling that they tackle much of the work themselves: "When it comes to furniture and lighting, September's mantra is 'find
it (vintage), build it, or make it.'"
Go to Remodelista 101 for everything you need to know about limewash paint.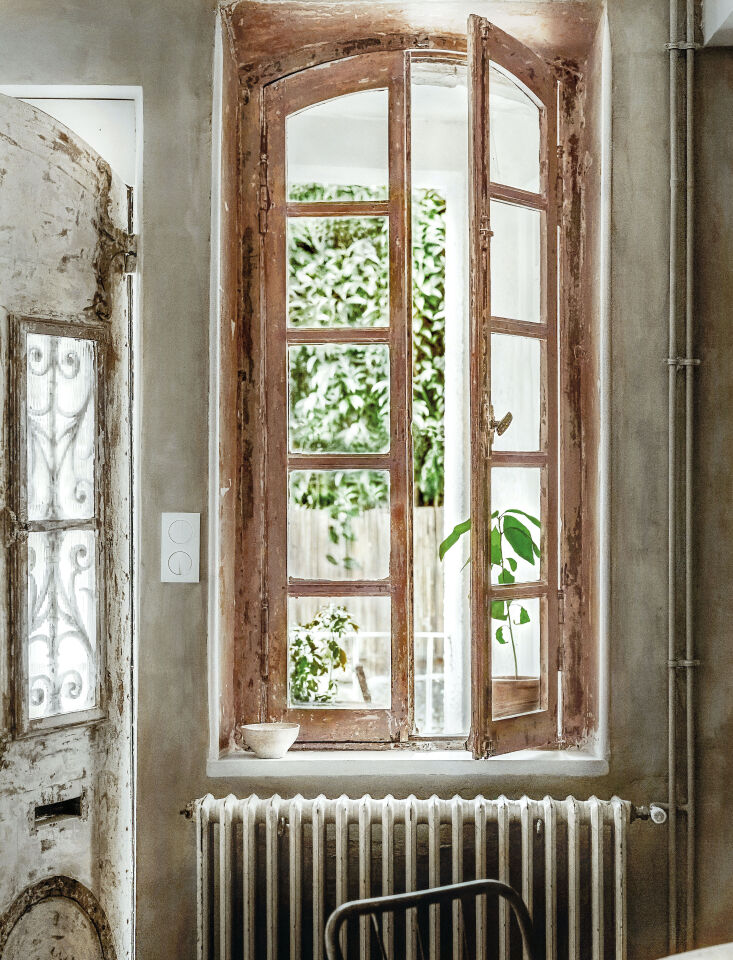 More Required Reading:
And consider pre-ordering our forthcoming book, Remodelista: The Low-Impact Home.
You need to login or register to view and manage your bookmarks.