Every May, a consortium of designers and showrooms in LA splash out a three-day design event called LCDQ Legends (for La Cienega Design Quarter). Julie and I made the pilgrimage a week ago to take in the parties, panel discussions, and shop window vignettes–and we're only just now coming up for air. Here's a look at a few of the things we admired along the way.
It's a tradition at Legends to invite designers to create showroom windows around a theme. This year's topic: Where Muses Dwell inspired odes to everyone from David Bowie to Edith Piaf. Memorable moments from the week:
Photos by Julie and Margot, unless otherwise noted.
Above: At Woven Accents' vast showroom, husband-and-wife duo Scott Jarrell and Kristan Cunningham of Hammer and Spear created a fantasy loft space that included a kitchen backsplash made out of carpeting. Photograph via LA Times.
Above: Marble as headboard? Another inventive use of materials–by model-turned-furniture designer and welder Meyghan Hall of (wh)Ore Haüs Studios–at Hammer and Spear's Woven Accents installation.
Above: UK wallpaper company de Gournay, longstanding makers of hand-painted Chinoiserie designs, branches out with a new pattern by Kelly Wearstler, available at Nicky Rising. 
Above: Lee Stanton hosted opening-night cocktails at his eponymous antiques shop and set up a photo booth using some of his own inventory with a backdrop by Codor Design. (Lee also makes a line of natural furniture polishing creams; see Furniture Care: Tips from an LA Antiques Maestro.)
Above L: Elizabeth Dinkel's tribute to Julia Morgan, California's First Lady of architecture, in the window of wallpaper and fabric specialist Nicky Rising. Above R: Fabrics by Australian designer Walter G. at Nicky Rising.
Above: Remains Lighting has a new line designed by Commune, including this Table Lantern. Photograph via Remains.
Above L to R: Lads from London: Legendary international designer Nicky Haslam made the trip, as did Will Taylor of Bright Bazaar–a self-described "young chap from the UK who is unashamedly hooked on hue." Photograph of Nicky Haslam at a party for his new book, A Designer's Life, by JL Photographers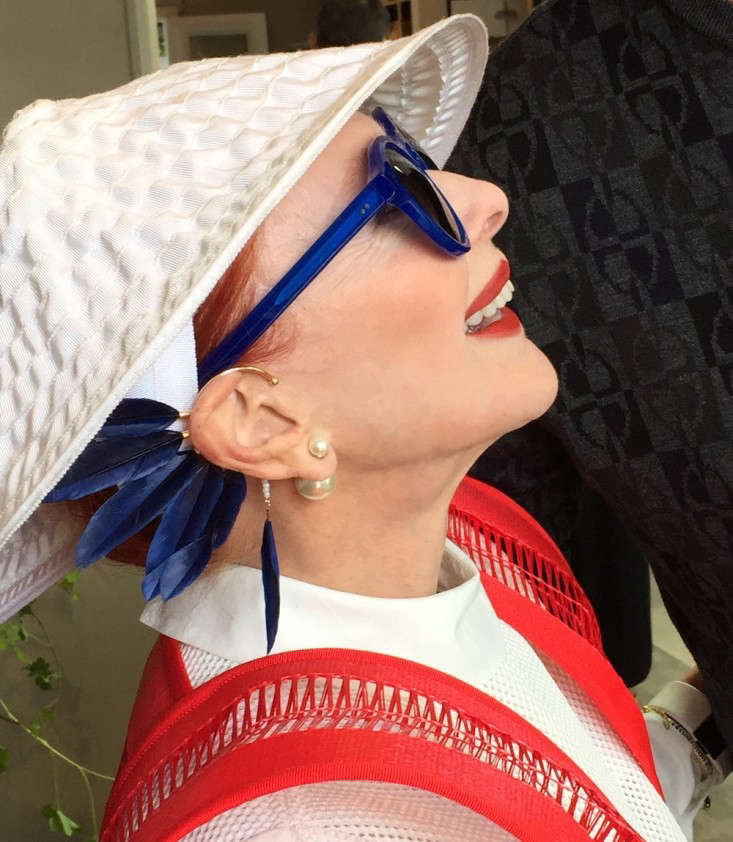 Above: Artist Valerie Sobel joined us for a courtyard tíªte-í -tíªte at Jonas, makers of memorably comfortable upholstered furniture.
Above: For Hollywood at Home, Todd Nicky and Amy Kehoe of Nicky Kehoe, members of the Remodelista Architect/Designer Directory, built a Wes Anderson-style work bench vignette, vintage model mansion and Italian Plexiglas lamp included. "We applaud Anderson's ability to express the quirky greatness of mankind in beautifully humorous ways," they say.
Above: It was an extremely well-groomed crowd. 
Above: Meeting of the minds: with LA interior design duo Brandon Quattrone (L) and Mat Sanders (R) of Consort (Mat is also a creative director at My Domaine). 
See more at Legends 2015 LCDQ.
(Visited 5 times, 1 visits today)