These days it can seem like Portland, Oregon, gets all the design buzz. But as we discovered while mining talent for our upcoming New England Market, its sister city on the East Coast is not to be ignored. Indeed many small producers such as Black Point Mercantile are helping to put Portland, Maine, on the design map.
Black Point Mercantile is a collaborative effort by Sara Lemieux and Skylar Kelly, artists with combined backgrounds in virtually every creative form–dance, oil painting, fashion, graphic design, film, and photography. Today the duo operates out of former movie theater in Portland's Old Port, crafting bespoke canvas pieces for individual designers and small boutiques.
Each Black Point Mercantile floorcloth or bag is handmade in a process that merges tried-and-true, old fashioned techniques with modern advancements. The company's signature graphics, which are derived from both western and coastal American icons, are all hand-painted. 
Remodelista's New England Market will afford a rare opportunity to shop for a broad array of Black Point Mercantile goods in person.
Above: Several of Black Point Mercantile's western motifs include, from left: Serapé, North Star, and Red Mesa. These canvases come in seven sizes ranging from 2×3 to 9×12; $275 to $2,677.
Above: Cross; starting at $234.
The labor-intensive process of creating a Black Point Mercantile original floorcloth starts with a large piece of heavy cotton duck. This is then cut and prepped on both sides with acrylic sizing, which shrinks and adds structure to the cloth. All designs are sketched out in pencil and then hand-painted with durable, mildew-, stain- and fade-resistant paints.
Above: Stitched with "high-tenacity nylon thread," each hem is sewn using techniques derived from 1930s Swiss tarps. A special resin bonds the hems for protection against tears and moisture. As a final step, each floorcloth is buffed with a proprietary blend of waxes.
Above: Canvas totes sports an array of contemporary, nautical-inspired motifs.
Above: Black Point Mercantile floorcloths can also be found at Sharktooth and John Derian.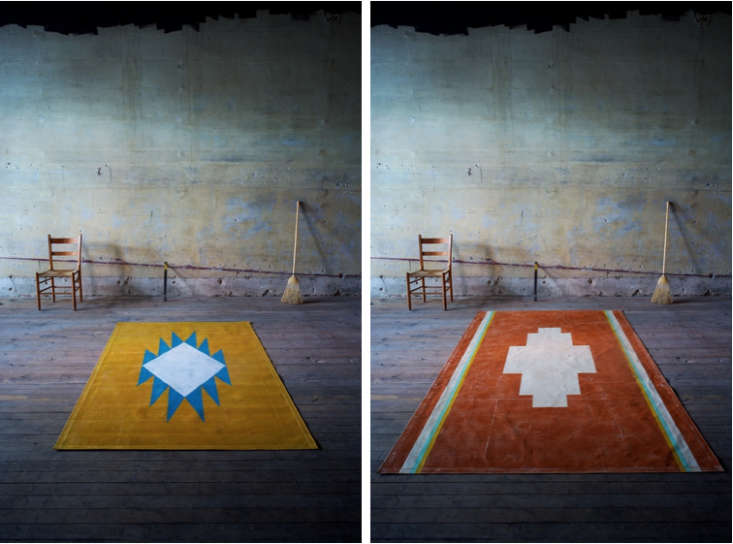 Above: Sand Painting in 5×7 size, $889; and Saddle in 6×9, $1,256.
Above: Mixed Signals, Black Point Mercantile's latest design, is premiering at the Remodelista New England market.
See more of Black Point Mercantile's work here.
You need to login or register to view and manage your bookmarks.