The inspiration behind Justine's ever-popular DIY floorcloth project? These nautical canvas mats by Black Point Mercantile of Portland, Maine, tailor-made for the summer cottage and cabin. Even Justine says, "These are so spot on that next time, I think I'll go straight to the source."
Photography from Sharktooth.
Above: Black Point Mercantile's floorcloths are sold by Sharktooth of Williamsburg, Brooklyn; John Derian in NYC and Provincetown, Massachusetts; and Pancho and Lefty of Sweden. Made of heavyweight canvas that's painted, waxed, and distressed, they're $425 at Sharktooth for the four-by-six-foot size, shown here. (Go to Black Point Mercantile and John Derian to see variations of this pattern.)
A consortium of designers, painters, and craftsmen, Black Point Mercantile–not to be confused with Remodelista favorite, Black Creek Mercantile & Trading Co.–specializes in "durable products that will last as long as you do." The group is currently at work transforming a defunct movie theater in downtown Portland, Maine, into Black Point Mercantile's combination factory and shop/gallery.
Above: These two-by-three-foot Floorcloths are $275 each at Sharktooth.
Above: An 8-by-10-foot Diamond Pattern; $750 at Sharktooth. Custom sizes, colors, and patterns are available.
Above: This six-by-nine-foot example is $550 at Sharktooth.
Above: A detail of the distressed surface and the stitching.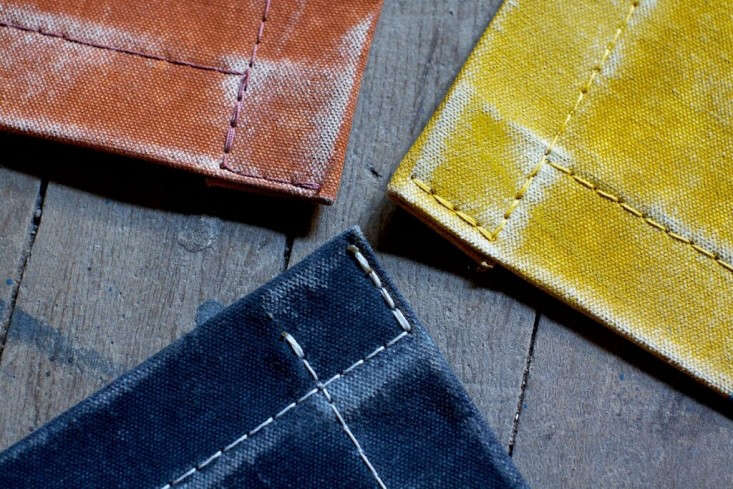 Above: Primary colors from Black Point Mercantile's about-to-be-introduced new series.
Above: A new design from Black Point Mercantile shown "in its native habitat," in the company's Portland movie theater.
We love living with canvas. For ideas, go to 7 Easy Summer DIY Projects with Painter's Drop Cloths. And to make your own summer rugs, see DIY: The Swedish-Striped Canvas Floorcloth.
Peruse more textiles from Sharktooth in our post The Patchwork Quilt Gets a Modern Makeover.
(Visited 53 times, 4 visits today)