Years ago, as a world traveler for the textile industry, designer Marcia Bayard was introduced to the Turkish pestemal-woven cotton towels with hand-tied fringed that were an elemental part of the traditional Turkish bath experience. Bringing the tradition back to the States, she married these exotic bath linens with the breezy aesthetic of her native Shelter Island. Thus 8knots was born.
Starting with the original blue pinstriped pestemal, the collection now includes many nautical inspired designs. All are made from lightweight linens and cottons, making them both absorbent and quick drying.
To sample the pure luxury of 8knots bath linens, stop by Remodelista's New England Market this weekend, November 14 and 15, at Lekker.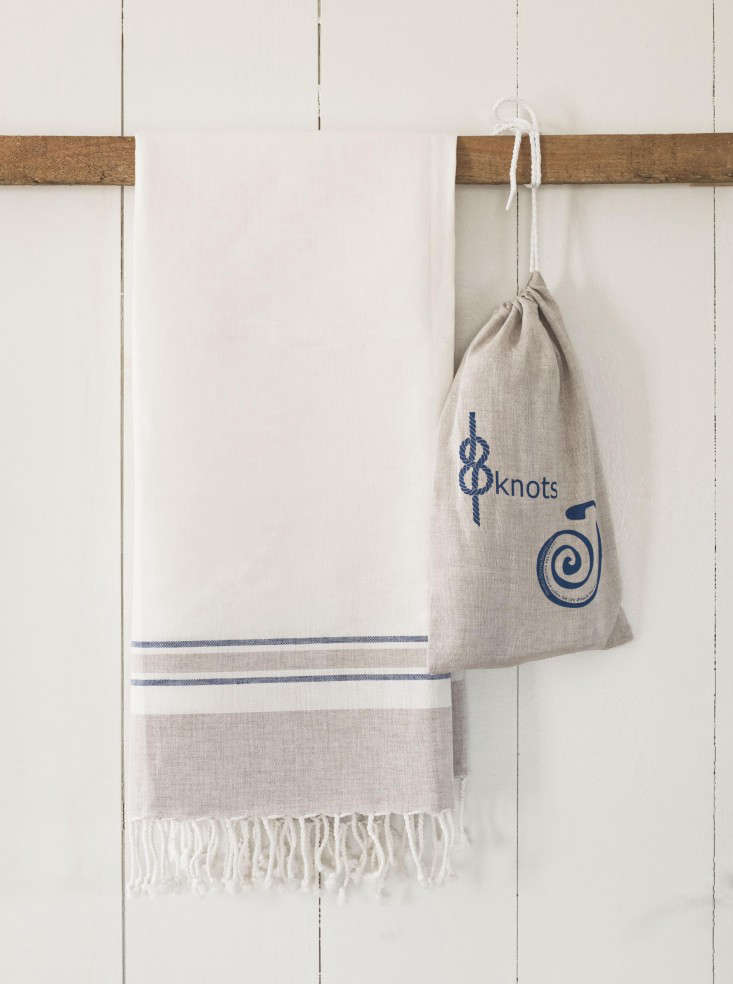 Above: Made in Turkey from fast-drying linen and absorbent Aegean cotton, 8knots' Linen/Cotton Pestemal comes with its own drawstring bag; $59.
Above: 8knots' Seersucker Stripe Pestemals come in island-inspired colors; $196 for a set of four.
Above: The Original 8knots Pestemal is woven in Turkey from 100 percent Aegean cotton; $39. Generously proportioned and so lightweight, it can also be worn as a pareu.
Above: Made from 100 percent linen, each 8knots Linen Oyster Napkin bear's Zora Neale Hurston's quote, "I do not weep at the world, I am too busy sharpening my oyster knife." Generous and weighty enough to be used as a napkin, placemat, or hand towel; $26 each.
Above: Flat-weave yarn-dyed stripes on one side and fine terry-loop on the other, 8knots' Pareo Towels, as the name suggests, serve a dual function. In two styles, warm spicy "Tangiers Stripe" and Caribbean blue "A Sea Change Stripe," created by London textile designer Kate Alexander exclusively for 8knots; $116 for the pair.
You need to login or register to view and manage your bookmarks.