Remodelista: The Low-Impact Home: A Sourcebook for Stylish, Eco-Conscious Living is finally, officially in bookstores today! Please come take a look.
Our goal was to pack the book with both design inspiration and approachable tips for how to live well while treading lightly on this planet. Many people contributed to—and elevated—the project, including the designers and creatives who opened up their low-impact living quarters to us, and the specialists—on everything from greener laundry routines to earth-friendly wall finishes—who stepped in with guidance and wisdom. Thanks to them, whether you're looking to spruce up your rooms in an eco-conscious way, or embarking on a remodel or build, you'll find much to take away from The Low-Impact Home.
Photography by Justine Hand.
Exactly what is between the covers?
12 house and garden tours, including an apartment remodel inspired by the Slow Food movement and farmhouse built from the very crop growing in its fields
Room by room spotlights on how to shift household habits and reduce your environmental footprint
Cheat sheets on what to look for when shopping for household basics, from lightbulbs to sofas and bedding
The lowdown on energy-efficient appliances and composting
The Vintage 75: a visual compendium of beloved and enduring secondhand household goods, all affordable and easy to source
Doable DIYs that put to good use torn T-shirts, empty bottles, and other castoffs you have lying around.
A nitty-gritty guide to energy efficiency: roofing, windows, HVAC systems, insulation, and flooring.
A manual of how to responsibly get rid of unwanted household goods—and where to borrow for free all manner of useful things, such as ladders, ice cream makers, and wallpaper steamers.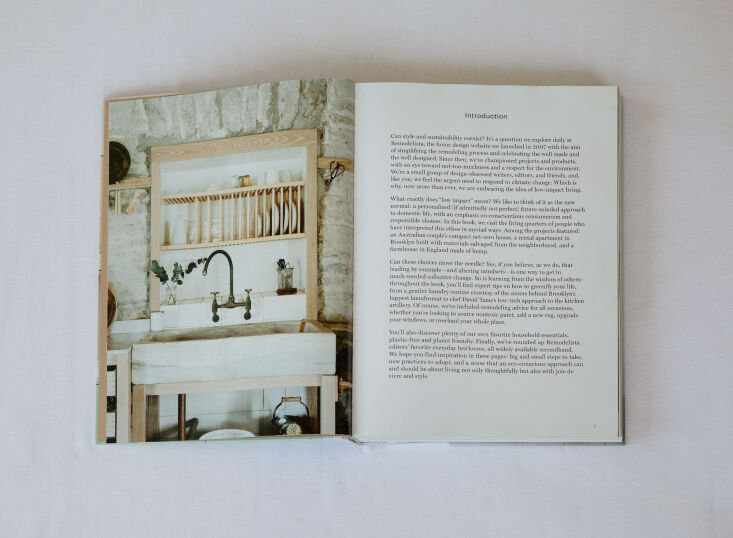 To Order:
US
Order via Amazon, Barnes & Noble, Books-a-Million, and Bookshop. To find your closest local bookstore, visit IndieBound.
Canada
Order via Amazon Canada and Indigo.
United Kingdom
Order via Amazon UK and Waterstones.
Australia
Order via Booktopia.
Other Territories
Elsewhere? Order via Book Depository.
You need to login or register to view and manage your bookmarks.