Even Arianna Huffington reads in bed. Today, we're zeroing in on a crucial bedroom detail with a lot of options: bedside lamps.
Why have bedside lighting?
Recently we wrote about the importance of being able to achieve total darkness in the bedroom (insomniacs, that post is for you). Dark bedrooms are great for sleeping, but too little light hinders other activities, such as reading, dressing, and getting ready for bed. Since no single fixture can effectively serve all bedroom lighting needs–it would be a blinding light– what's needed is a combination: controlled task lighting and gentle ambient light. This use of multiple sources is known as light layering.
What's the best height for bedside lamps?
Bedside lights have a specific task: to illuminate the pages of your book (or book-like device) without requiring you to contort–and without bothering your bedmate. To prevent shadows, the bottom of the lampshade should be positioned between your head and the page. Factors to consider are the height of the bed, the height of the bedside table, and the position of the reader: You don't want the lights so high that they create glare; on the other hand, you want to be comfortable.
Randall Whitehead, author of Residential Lighting: A Practical Guide, advises that "the best way to find the correct height is to get into bed and hunker down against the pillows in your normal reading position. Then measure from the floor to just above your shoulder height." The base of the shade should be at that height.
What are the most popular types of bedside lighting?
The most common options are table lamps, wall-mounted lights, pendants, and adjustable task lamps. They're typically placed on either side of the bed and are usually matching. (Note that lighting experts say to avoid installing ceiling down lights directly over beds–soft light at face level is more effective and saves you from staring up at a bulb.) Here's what to know about each of the recommended lighting types.
1. Table Lamps
From a decorative standpoint, table lamps offer the widest range of options. A general rule of thumb when selecting bedside table lamps: the bottom of the lampshade should be about 20 inches above the mattress.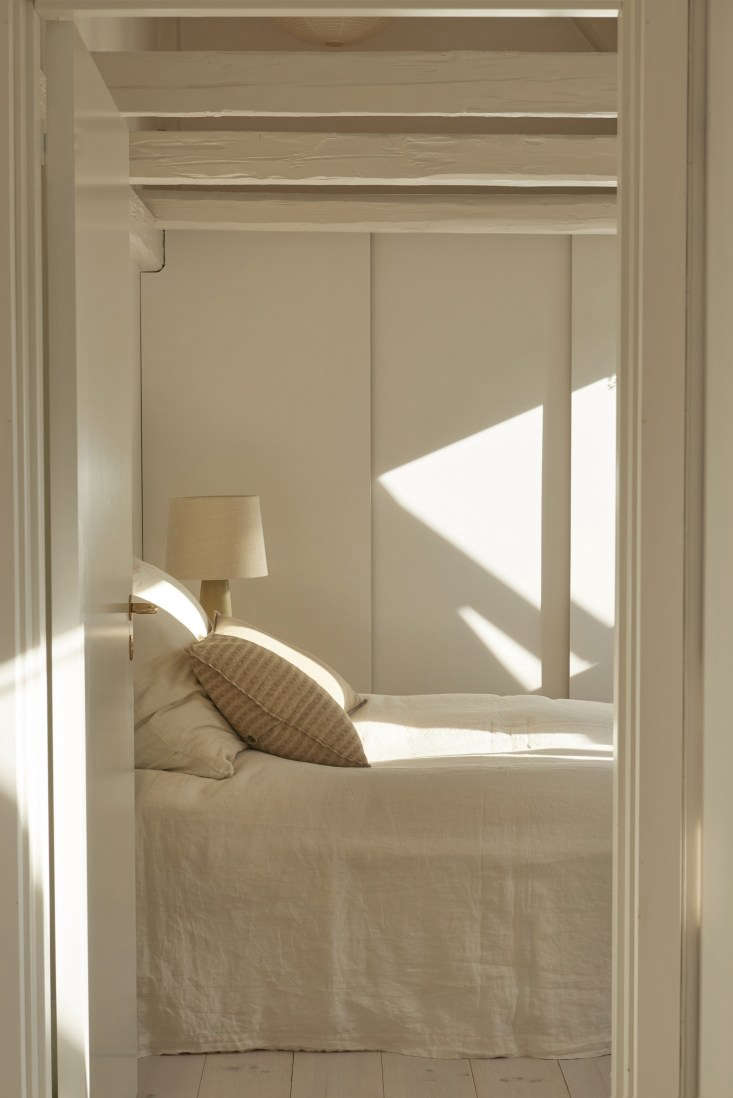 2. Wall-Mounted Lamps
Wall-mounted fixtures free up bedside table space–or eliminate the need for bedside tables altogether. Many wall-mounted designs are moveable, making them a choice with built-in flexibility.
Tip: Swing-arm, wall-mounted lights that move both horizontally and vertically offer a solution for people who share a bed but rest at different heights. The lamps can be mounted at matching heights and adjusted for the different reading positions.
3. Pendant Lights 
Pendant lights become bedside illumination when hung at table-lamp height. Avoid spotlights that will only point light to objects directly below. Instead choose pendants that provide diffuse light whether via a wide shade, opaque shade, or no shade at all.
4. Task Lamps
The adjustability of task lamps has fostered their migration from lab and office to bedside table. Choose task lights with a well-shielded bulb, so you can read without bothering your bedmate.
5. Floor Lamps
Another option we've been noting lately: floor lamps as statement-making bedside reading lamps.
Tips for bedside lighting selection and placement:
Consider furniture and electrical power outlet placement when planning your bedside lighting. It may be worth adding outlets or hardwired fixtures.
Pay attention to how the lamp turns on and off to ensure it's easy to operate when you're in bed.
Opaque shades are a good choice for reading lamps because they cut glare.
Each bedside lamp should operate on its own on/off switch.
If the fixtures are hardwired, consider wiring them to two switches, one accessible from your bed and the other near the bedroom door.
Switches can be placed close to the middle of the headboard, enabling you to easily turn off a snoozing partner's reading light.
Avoid use of CFL bulbs that emit blue light, which has been shown to suppress sleep-inducing melatonin production. Consider using low-wattage incandescent lamps at your bedside (and turn off overhead lights as you get ready for bed). For reading, 40- to 60-watt bulbs are best.
Looking for lighting in other rooms? Read our Remodeling 101 primers: