Rosa and Seth Dunlap had just left their hectic, corporate jobs in Chicago for a slower, warmer life in New Orleans—and had begun renovation work on their newly purchased center-hall-style house in the Lower Garden District—when the owners of the dilapidated 1880s shotgun house next door put it up for sale. Smitten with the history and architecture of the city, and eager to try their hand at revamping an iconic example of New Orleans architecture, they bought it as an rental property and got to work.
"The house was in really bad shape—no attention had been paid in last twenty to thirty years. There was a tree growing on the back of it," Seth explains. But they figured that a simple shotgun house would be a good way to learn how to DIY, and took it down to the studs. The previous owners approved, they said: "They saw that we were making an investment in the block, that we cared about restoration and preservation, that we weren't just flippers. They knew that the house would be in good hands." The result: a sophisticated shotgun that marries new with antique. And now that Rosa and Seth have moved into their newly completed center-hall home, the shotgun is available for rent—see Kid & Coe and VRBO for more. (I stayed there myself a few months back on a trip to New Orleans. Take a look inside:
Photography by Augusta Sagnelli.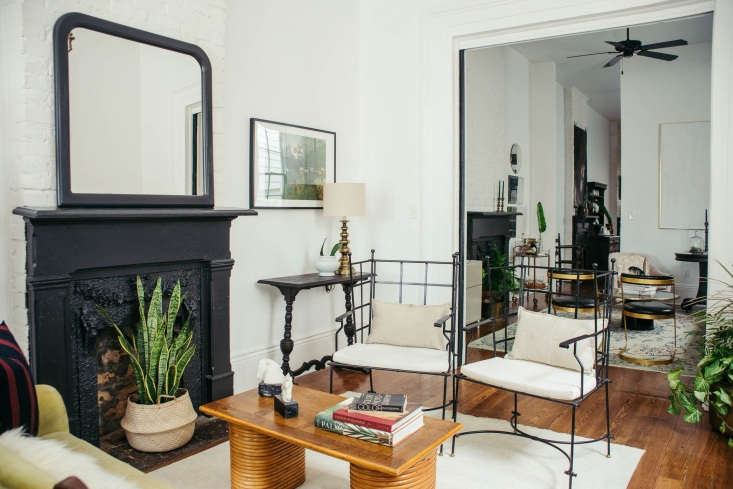 "There's a reason these houses are designed the way they are, and we wanted to preserve that. Our intention was never to change the floor plan, but adapt it to modern times," Rosa says. The renovation was an intense four-month process, starting with navigating the local contractor business. "NOLA is a unique place, with lots of historic properties. Finding those good craftsmen, the right network and connections, was hard," Seth says. They ended up going through a few contractors before deciding to manage the project themselves. "You have to be comfortable micromanaging, because tons of decisions get made every day," adds Rosa. They never had a set of plans, and instead figured it out along the way, but they weren't unfamiliar with design: Seth's father dealt antiques and then worked for an architectural firm in Indiana; Rosa's parents have run an antique store in Kansas for over 40 years.
When it came time to paint, Rosa chose Benjamin Moore's Chantilly Lace for all the walls and Onyx for the doors and fireplaces. "I love using white for walls and black for accents. It's a simple way make the historic details a canvas for a more eclectic layering of furniture and decor," she says. The floors are the original antique pine, stained with a custom mix to tone down the red and sealed with DuraClear.
In addition to the antiques store, Rosa's parents often had side projects restoring neglected, old limestone houses that they would either rent or sell. "Seeing our parents doing this work—saving something significant—we developed a passion for bringing these places back to life," adds Seth. A trip to Copenhagen just before the renovation—Seth also lived there for a few years in his twenties—provided some Scandinavian influence. That, plus a bit of good old-fashioned swankiness, made for a modern Gothic feel.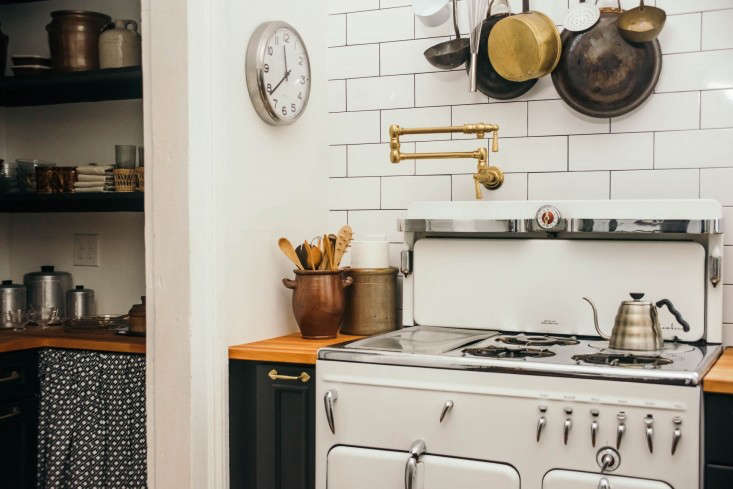 Of the preserving the home's historic bones, Seth says, "We saved everything we could. We wanted to highlight the original features that we could salvage—window casings, pocket doors, the wavy glass windows, transoms, wood flooring," says Seth. The house has eight fireplaces within its 1,900 square feet; all were left intact during the renovation, though the chimneys were long since removed.
Rosa and Seth lived in the shotgun house for a year while their main house was being renovated (and their son learned to walk there, they tell me). "We built the house for our own lifestyle, but it has extended well. It was a good empathy exercise," says Rosa. Now that they've moved back into their main house, the shotgun house is available for
vacation rentals
, and the couple hopes it feels authentic, a window into what it's like to be a local in the city. "NOLA offers a euphoric feel when you arrive," Seth says. "There's a rhythm and magic to the city. We want to create spaces that draw people—it's part of the magic of being here. And we want them to come back. We have met so many people through this house. That gives us so much joy—it's such a fulfilling aspect of this work."
And the couple is ready for their next project, a few blocks away, where they recently bought a pair of commercial warehouses. We're keeping an eye on what they do next.
More vintage gothic in New Orleans: