Rosa and Seth Dunlap had just left their hectic, corporate jobs in Chicago for a slower, warmer life in New Orleans—and had begun renovation work on their newly purchased center-hall-style house in the Lower Garden District—when the owners of the dilapidated 1880s shotgun house next door put it up for sale. Smitten with the history and architecture of the city, and eager to try their hand at revamping an iconic example of New Orleans architecture, they bought it as an rental property and got to work.
"The house was in really bad shape—no attention had been paid in last twenty to thirty years. There was a tree growing on the back of it," Seth explains. But they figured that a simple shotgun house would be a good way to learn how to DIY, and took it down to the studs. The previous owners approved, they said: "They saw that we were making an investment in the block, that we cared about restoration and preservation, that we weren't just flippers. They knew that the house would be in good hands." The result: a sophisticated shotgun that marries new with antique. And now that Rosa and Seth have moved into their newly completed center-hall home, the shotgun is available for rent—see Kid & Coe and VRBO for more. (I stayed there myself a few months back on a trip to New Orleans. Take a look inside:
Photography by Augusta Sagnelli.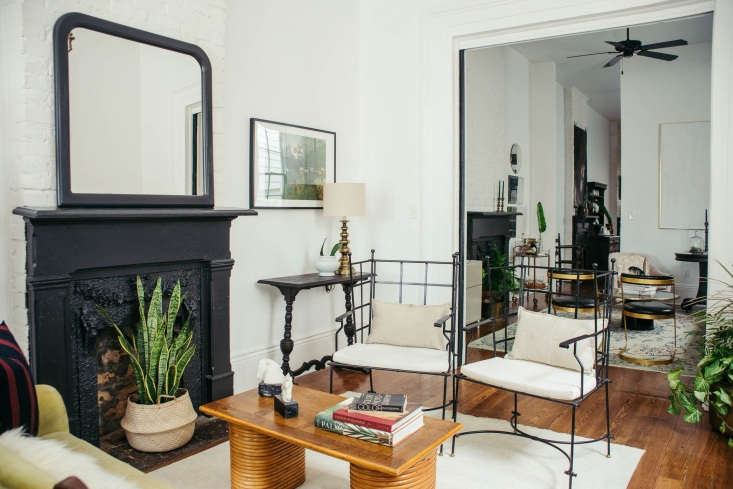 "There's a reason these houses are designed the way they are, and we wanted to preserve that. Our intention was never to change the floor plan, but adapt it to modern times," Rosa says. The renovation was an intense four-month process, starting with navigating the local contractor business. "NOLA is a unique place, with lots of historic properties. Finding those good craftsmen, the right network and connections, was hard," Seth says. They ended up going through a few contractors before deciding to manage the project themselves. "You have to be comfortable micromanaging, because tons of decisions get made every day," adds Rosa. They never had a set of plans, and instead figured it out along the way, but they weren't unfamiliar with design: Seth's father dealt antiques and then worked for an architectural firm in Indiana; Rosa's parents have run an antique store in Kansas for over 40 years.