From updating to rationalizing existing space, we all have our reasons for renovating. When London portrait photographer Abi Campbell's divorce required her to downsize as well as renovate, she rebuilt her life through her house; one careful detail at a time.

With the budgetary constraints attached to her situation, the ex model and actress (remember the "Mysterious Woman" in Stanley Kubrick's Eyes Wide Shut?) knew her only option was to purchase a house that required a full renovation, all while she and her two young children were in residence. While the entire renovation took the best part of a year, she renovated the top two floors in just two weeks, providing a safe haven for the children from all the dust and noise. She then turned her focus and her newly found project manager skills on the kitchen and dining area; what she knew would be the eventual heart of her new home. And for this, the three lived without a cooker and dined exclusively on microwave meals (reusing the same three plastic plates and mugs for three months). "Looking back, I not only can't believe I did it but also how much I managed to do in that short period of time," Campbell says. "The sense of achievement at the end of the renovation was immense on so many levels."
Photographs by Matt Clayton.


Above: Campbell pulls together a set of drawings by Hugo Guinness, which she spotted in her favorite interiors shop, John Derian, and surrounds them with antique frames, creating a light-hearted focus in the seating area.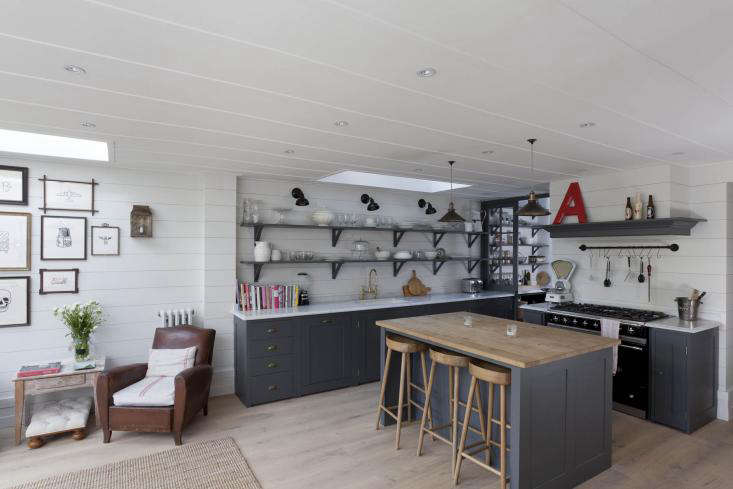 Above: The original floor in the kitchen was marble, which Campbell found prohibitively expensive to remove, and as a result, she selected an engineered oak floor to lay on top of the marble.


Above: I had a very clear idea of what I wanted to achieve for my kitchen after spending some time in upstate New York and the town of Hudson," Campbell says. "I was very influenced with the way paneling and cladding is used in America and was drawn to the added warmth and character it can bring to a room." Campbell hid her refrigerator and freezer in a custom built cupboard to the left.


Above: Campbell's kitchen is north facing, and she used steel frame doors with their larger openings to bring in as much light as possible.


Above: "I have a very strong sense of my style and had built up a comprehensive look-book before I had even completed on the purchase," Campbell says. "Remodelista is a continuous source of inspiration for me–like a holy grail of interiors websites" (wow–thanks!). Campbell sourced her kitchen cabinets from Plain English but did the actual planning of the kitchen herself.


Above: "As a photographer, I am a great believer that lighting is the key to everything," Campbell says. "I spent months sourcing the perfect lights from the kitchen and it comes into its own at night." The over-the-shelf lights are reclaimed Dutch industrial lights, and the pendant is a reclaimed mercury glass factory light.


Above L: Campbell sourced her brass tap at Barber Wilson. Above R: The only thing Campbell kept from the original kitchen was the Lacanche cooker. She concealed her extractor within crown molding and sourced her metal hanging rod, which is an old plumbing pipe, from Etsy.


Above: "I did not want wall-hung units, as I felt that a fitted kitchen would have closed everything in," Campbell says. "Instead, I wanted a French bistro feel, which dictated my choice of worktop (Carerra marble) with a profile rather than a bull nose edge."


Above: "I had a funny dead space at the end of my kitchen, and Plain English suggested that I turn it into a pantry," Campbell says. "I blew my budget here, but I love being able to see everything and getting my hands on it fast."


Above: "If I were to start again, there is not a single thing I would do differently," Campbell says. "I knew exactly what I wanted and planned it to the smallest detail, leaving no room for error."


Above: Abi Campbell with her two children, who survived the renovation with her. A portrait photographer who specializes in children's portraits, she is also available for interior design consultation. For more information, see Abi Campbell Photography.


Above: A before view of Campbell's kitchen into the dead space which eventually became the pantry of her new kitchen.


Above: Campbell decided against wall-hung units in her new kitchen.
Campbell was ready to start work on her kitchen the minute she completed on the purchase of her house, because she had spent hours in advance producing her look-book. Start yours by looking through 2,229 images of Kitchens in our Gallery of rooms and spaces.
You need to login or register to view and manage your bookmarks.