Confession: In elementary school, I was a library aide, which meant I got to skip early morning recess and help our librarian shelve books. Maybe that's why I'm attracted to the interiors of The Old Library in Australia. A library where they serve cocktails? We're there.
Located in Cronulla, a suburb of Sydney, the Old Library building dates from 1908 (it was a Methodist church that was later converted into a library). Owner Mario Kalpou worked with design firm Hecker Guthrie to create a lofty, white-painted vaulted space with fireplace alcoves, industrial lighting, and luxe linen lounge seating. Stylist Sibella Court sourced animal heads by London artist Lucie McCann, rugs by Armadillo, and commissioned library wall murals by Sydney-based Hugh Ford. It all adds up to a bookworm's paradise.
Photographs by Shannon McGrath.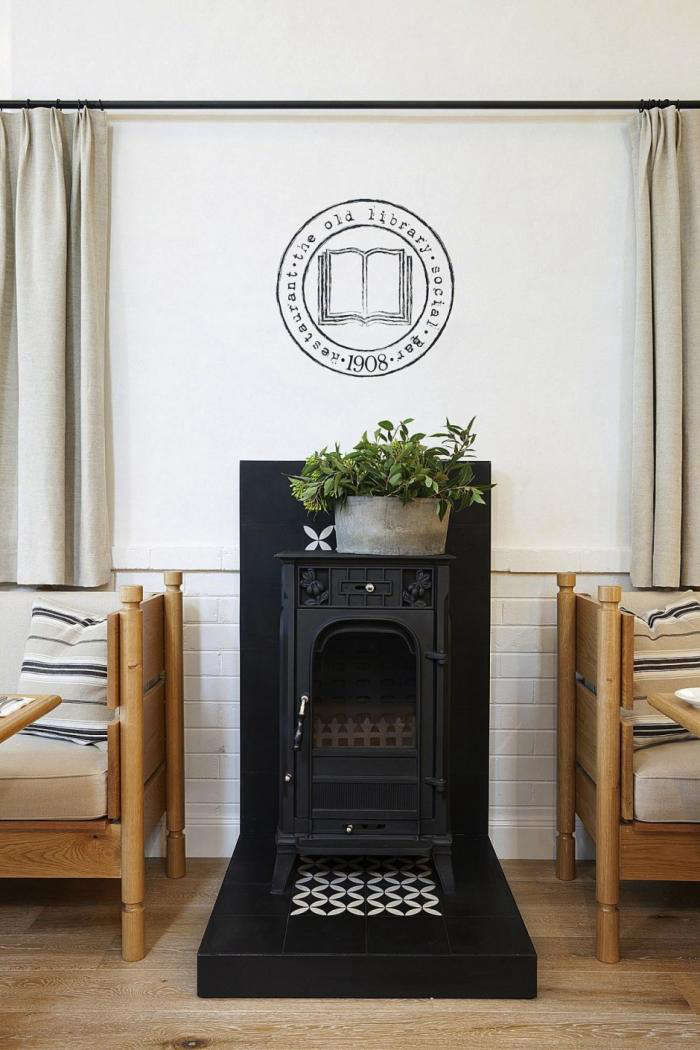 Above: A 1908 library insignia stenciled over the wood-burning stove.
Above: Communal tables anchor the dining room; a bookshelf mural adorns a wall (see 10 Favorites: Bookshelf-Printed Wallpaper for more ideas).
Above: Bookshelf wall murals by Hugh Ford and an animal head by London artist Lucie McCann.
Above: White Billiani Aloe chairs add a modern note to the interiors.
Above: Natural oak tables and benches add a rustic note.
Above: Linen curtains add a note of intimacy.
Above: A tiled bath with a German utility sink and copper piping.
(Visited 89 times, 1 visits today)