The bedroom is the most personal space in a home (and potentially the most luxurious, if sleep is a priority). In this roundup of bedrooms from the Remodelista Architect/Designer Directory, we visit a range of approaches. For some architects and designers, it's about the purity of the space, where the architecture takes the top note; for others, it's more about the soft finishes and the actual art of making a good bed. To see more spaces, visit the Bedroom Gallery on the Remodelista Architect/Designer Directory.
Above: Chicago designer Kara Mann mixes soft white textures from sheer bed curtains and drapes to an Hermes mohair throw to create a modern and luxurious bedroom. For more see Modern Glamor with Kara Mann. Photo by Adam Heneghan.
Above: New York architect Steven Harris takes advantage of the natural bright light in Croatia, creating a crisp bedroom by the seaside with a few colorful and textural highlights. Photo by Scott Frances.
Above: Brooklyn based designer Elizabeth Roberts sets the bed against a feature wall in a Park Slope townhouse.
Above: The corner of the master bathroom is visible from the master bedroom, allowing both rooms to take advantage of the natural daylight which streams through the windows of this Fifth Avenue loft by Murphy, Burnham & Butrrick Architects. We particularly like the way the stone from the bathtub forms the nightstand. Photo by Peter Aaron/Esto.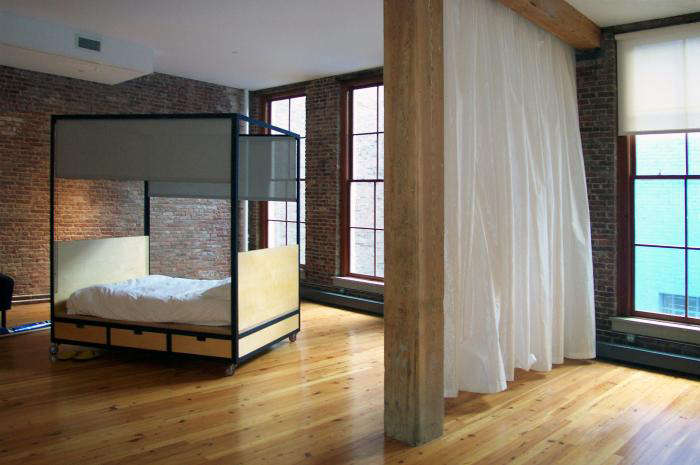 Above: In this Crosby Street loft by Deborah Berke Partners, the bed on wheels becomes a mobile "room." Photo by Catherine Tighe.
Above: This tree house bedroom by Specht Harpman Architects is a loft-like box that sits within a reconstructed Connecticut dairy barn. The rafters in the barn extend into the bedroom and form the headboard composition. Photo by Michael Moran.
Above: Sheer blinds diffuse the light, creating peace and calm in the bedroom of a London flat by Openstudio Architects. For more, see Loft Living in a London Victorian.
Above: Live-edge tree slabs are used to form both the bed's platform and headboard, adding an organic note to this Miami Beach townhouse bedroom by Magdalena Keck Interior Design. Photo by Jeff Cate.
N.B.: This post is an update; the original story ran on November 6, 2011.
You need to login or register to view and manage your bookmarks.