Earlier this week we featured summery wood cabins in Sweden and Japan: today, we're looking at two projects by members of the Remodelista Architect/Designer Directory—the first is a modern barn by New York-based Leroy Street Studios, and the second is a rural-inspired compound on the opposite coast, by San Francisco-based CCS Architecture.
Above: Sited on the edge of an open agricultural reserve in Long Island, New York, the Louver House by Leroy Street Studio captures the qualities of traditional barn structures while housing the requirements of a modern residence.
Above: The main space is an open living, dining, and kitchen hall with a three-dimensional wood-and-steel timber frame ceiling and a slot skylight above.
Above: An interior view of the translucent layering of louvers and rain screen siding from the integrated stairs.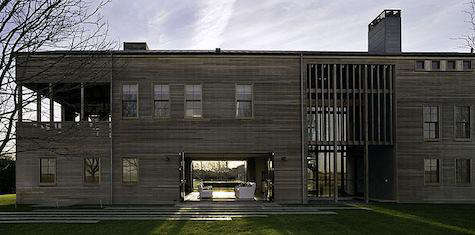 Above two photos: Five outdoor courts and garden spaces are unified under a single roof. A translucent wrapper of louvers and rain screen siding ties together the various internal and external spaces.
Photography of Louver House by Paul Warchol.
Above: Located in the Santa Cruz mountains, five miles from the Pacific Ocean, the Aptos Retreat by CCS Architecture is inspired by the forms of American barns.
Above: The "sleep" building slides under the roof of the "live" building, connecting the structures and providing a protected passageway. The exterior is clad in sustainable, reclaimed barn wood.
Above: The interior features cedar-clad walls and ceilings, concrete floors, and a stone fireplace.
Above: The live-edge walnut tree slab used for the kitchen island adds an organic note.
Above: The barn features prefabricated steel frame components with Corten steel walls and roof. Photography for the Aptos Retreat by Paul Dyer.
(Visited 7 times, 1 visits today)